OCC Spotlight
Meet some of the wonderful people associated with the Outer Cape Chorale!
September 2020 – Kathy Fogle and Nancy Sweeney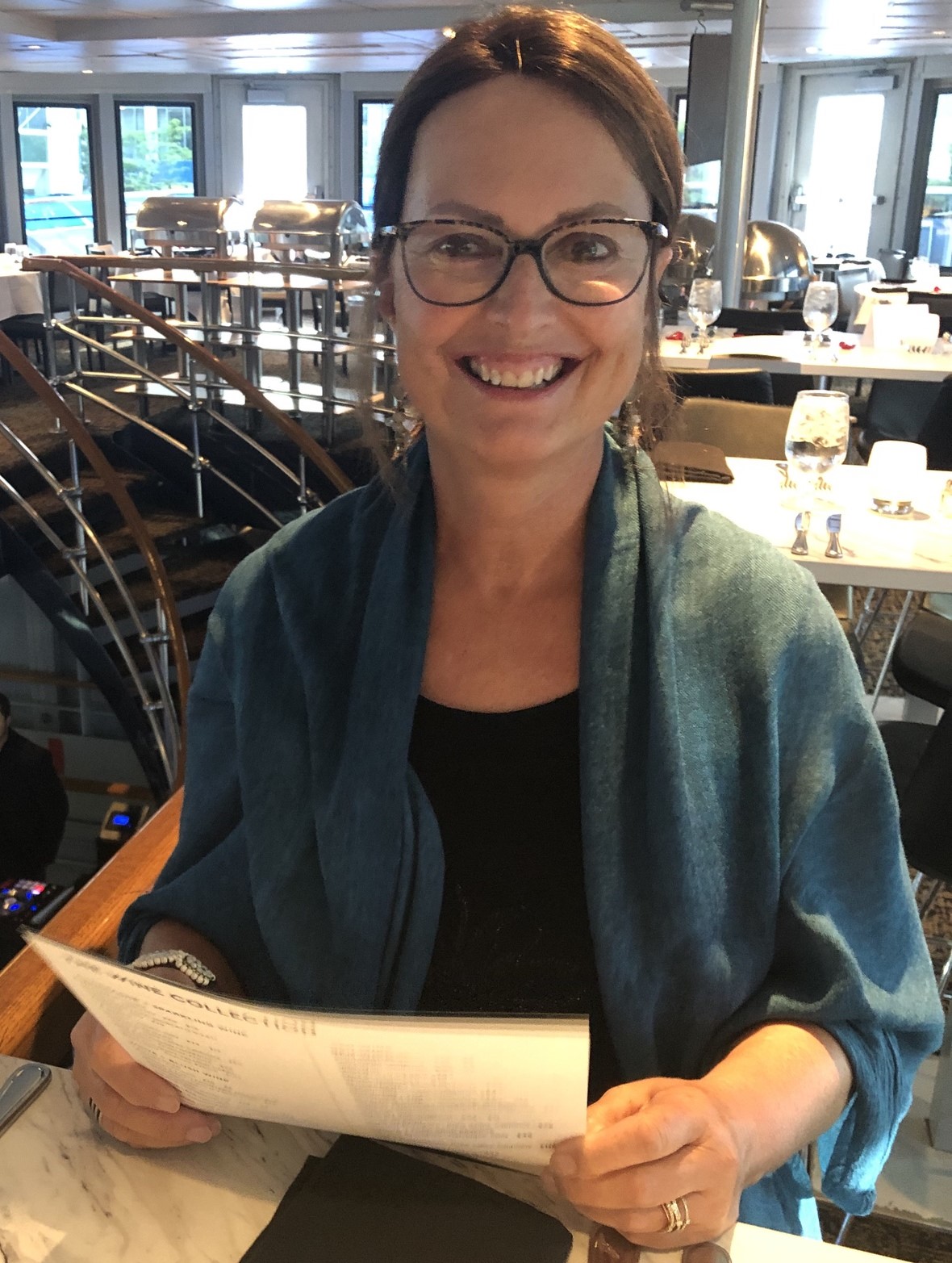 Kathy Fogle
If music soothes the savage beast, then I have felt savage AND beastly since the loss of OCC and live music concerts.  I SO miss our smiling, expectant faces at 6:30 on Thursday nights, and I REALLY miss the sound of Allison's tinkling laughter.  The absence of my 2 choirs has left a gaping hole in my heart. I hope it is mended soon.
When I was a kid, my family had a Hi-Fi and a variety of albums. Some favorites were: Barbra Streisand's"Color me Barbara", Astrid Gilberto singing "Girl from Impanema" ( I still find myself singing her version of "How Insensitive" when I am in the shower or vacuuming the kitty litter), and Leonard Bernstein's "West Side Story". I'm sorry to say , I couldn't get enough of "Officer Krupke". I remember my mother being concerned that it might not be an appropriate song for children.
Lest you think my musical taste was savage and beastly, I also loved Prokofiev's "Peter and the Wolf". I still love it . There is a version of "Peter and the Wolf"with David Bowie doing the voices!
When I was about eight years old, my parents gave me a small used record player and a stack of used 45s as a Christmas present(go figure… sounds like Dickens). I became COMPLETELY obsessed with The Searchers version of "Love Potion Number 9" ! I listened to it over and over again so excited by the song's energy and story , especially the "gypsy with the gold tattoo"!
I was eight years old when my sister got "the white album" for her birthday. She told me not to touch it. I played it as often as I could. I wonder what my mother thought about the appropriateness of the song "Why Don't We Do It in the Road"?
My sisters and I listened to all the hits of the 60s and 70s… that renaissance time of rock 'n' roll music, on a.m. radio . My father declared it "crap music" and switched to FM classical music in the evenings. I couldn't imagine anything more boring. His classical albums didn't have interesting album covers, the songs didn't tell a story and you certainly couldn't dance.
Pssst. Reader, I am only now admitting this to you. I did not learn, sing, or understand the beauty and complexity of classical music until I joined OCC with John Arterton and soon- to -be -continued with the incomparable Allison Beavan. Yes! We will be back!
Thanks for letting me share a little piece of my musical story with you. I miss us so much.
********
Nancy Sweeney
So, what has been keeping Nancy busy during these crazy times?????
Well, I have become quite an expert with this whole Zoom thing. Zoom kept me sane through the first part of the lock down. "Zooming" with my Diva friends, family, distant friends and of course the classes Allison ran were much anticipated as they were the ONLY thing on my calendar! It was so good to see all of my OCC friends.
Walking in the woods became a daily ritual and eventually "socially distanced" walks and hikes occurred. And of course BAKING! Bad idea as I live alone and guess who ate my creations???????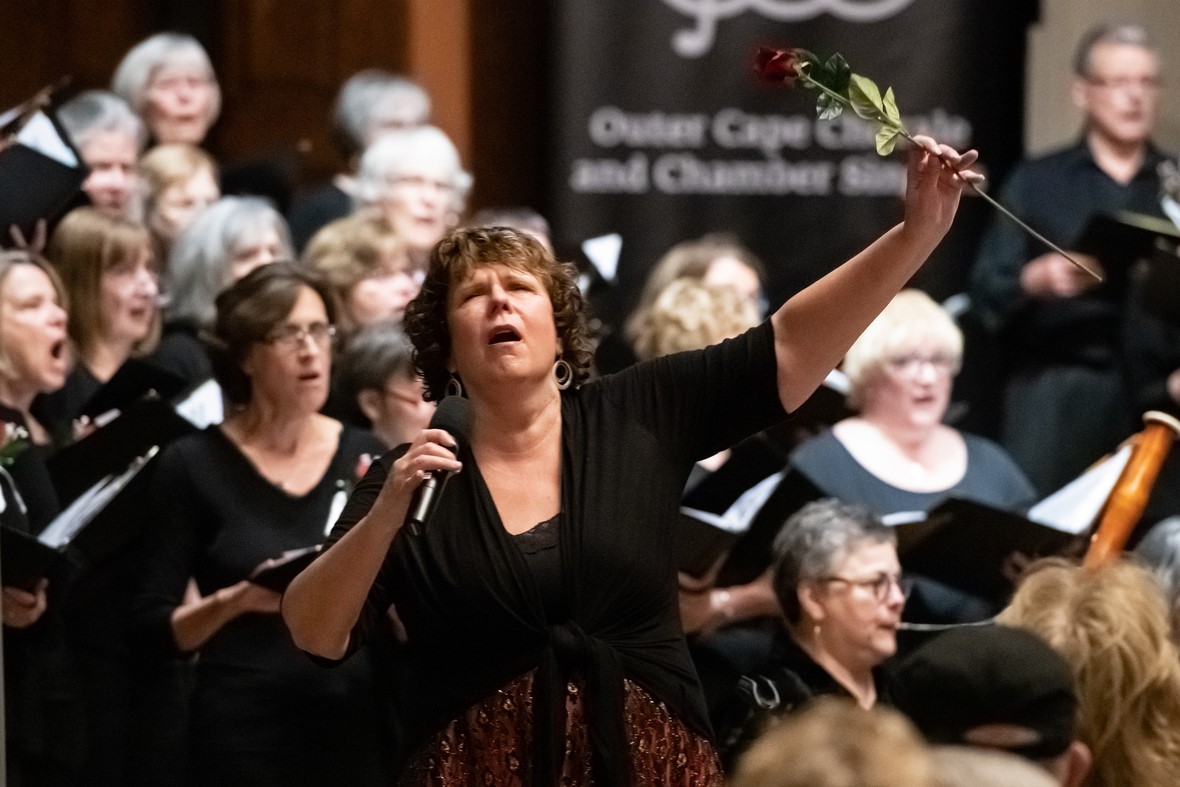 Going to the market was an adventure! I looked like an elderly woman preparing for blast off on the space shuttle! Glasses, a mask, gloves, sanitizing agents for wiping down the carriage, a list made out with an exact plan of where I needed to go in the store so I could breeze in and out of the store quickly, scanning my food with the portable scanner, paying by credit and then sanitizing my hands in the car! Oh yes, then carefully removing my mask and re-sanitizing! Then there was the unpacking of my groceries on my breezeway, wiping down boxes, washing produce, stripping down on the breezeway and streaking to the shower. WHEW! RELAXATION! (Although if any of my neighbors caught the streaking part of that event I am sure they were not relaxed!)
As the months WORE on I became relaxed but still vigilant. (At least the streaking stopped.) When it finally warmed up, as is typical on the Cape, in June, I began taking walks on Bank Street Beach in Harwich. Oh, how I love watching and listening to the waves, so relaxing and meditative.
Summer has brought small group, socially distanced gatherings in my yard, at the beach and with my family.
I miss everyone at OCC and dream about the day we can all sing together again. Watching a myriad of choruses on YouTube, playing with my new Alexa (she tells jokes!) and watching Hamilton – I think I now know most of the music – has kept me entertained.
I hope everyone has remained healthy both physically and emotionally and hope we will all be "tribbling" again with Allison SOON!
********
August 2020 – Tom Jahnke and Mary Avellar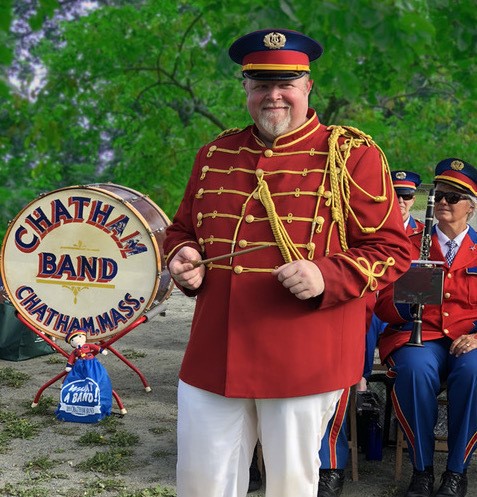 Tom Jahnke – Kapelmeister
Though much of the music in my life is on hiatus during this pandemic, some of the musical groups I am a part of decided to make changes to how and where we rehearse or play.  I miss the Outer Cape Chorale terribly as singing is one of my great passions. I have been fortunate that my small church choir started virtual rehearsals on Zoom in which the music director plays her piano while the members of the choir sing at home via the computer.  We are all on 'mute' so we don't hear each other, but we enjoy the feeling of being together and singing along.  Unfortunately the Chatham Band is not allowed to perform, but the Harwich Town Band has been rehearsing off and on using the front lawn of the First Congregational Church.  We are all socially distanced which I thought would not work with a thirty piece wind ensemble, but it does.  From where I stand at the conductor's podium, the sound is big and bright and wafts through the center of Harwich. I wear a mask as do the musicians when not playing.
Though we are not able to have an audience, the cars passing by usually clap as do the people on the sidewalk or those across the street on the deck of Harwich Center's newest pub.  We are hopeful that we may be allowed to perform in August.
TD Bank has sponsored a series of virtual concerts as well.  One of the swing bands I am in has been preparing for our performance on a smaller scale using an eight piece combo instead of the usual twenty piece full band, again, rehearsing socially distanced in someone's backyard.  We will tape our performance and then it will be uploaded to the Arts Foundation of Cape Cod's Facebook page along with quite a number of other gig musicians and musical groups.  Concerts can be viewed on Sundays at 7 pm and Wednesdays at 11 am.
And since we can't get together to celebrate as we would like, we organized a fifty car drive-by caravan through the streets of Chatham consisting of members of five different Cape Cod bands in order to honor one of our favorite musicians Karl Fehrle on his 99th birthday.  The drive-by was followed by the Sound Dunes combo serenading Karl who sat in with us and played his "mean saxophone" on quite a few of our numbers!  Keeping busy and keeping in touch keeps me sane.  And every once in a while, I'll put on my uniform and pretend I'm on my way to a concert!
**********
Mary Avellar
I've kind of been living in a whirlwind!  I've had a lot of changes since January.  I've had to help close a business I've worked at for 25 year, got a new job that is overwhelmingly busy and exhausting I'm just beginning to adjust.  Started a choir directors Job at a Church in February which stopped in March and who knows when they will let the choir sing, COVID 19 is happening, OCC Stopped, I just want to say WAHHH!
Uplifting news, I've recently started doing vocal exercises and back to humming random songs that come to mind.  Sometimes even Christmas tunes.  I'm teaching myself guitar, practicing my flute a bit more, and playing scales and exercises on piano.  Not all at once of course.  Feels good.
I'm looking forward to seeing everyone at OCC and sharing the love of music that fills our hearts and energizes our souls.
Music is Breathing and Breathing is Life!