In Rehearsal Blog – Our Spring 2019 Season
Putting it Together
It's bittersweet, our last rehearsal before concert weekend. Most of the hard work is behind us. It's time to make beautiful, expressive music—for an audience.
Dress Rehearsal always feels a little chaotic. There's the environment, Provincetown Town Hall, in all of its echoey grace and largeness; there are risers to stand on and lines of sight to negotiate with those around us; there's the orchestra, in the flesh, and it's our first time singing with them. So much is different, yet, because of Allison's foresight, so much is familiar. We know the music, we know where to stand, we're ready to go. How in the world is all of this going to work?
The music goes well—all that attention to detail has paid off—well, maybe a nervous mis-step here and there, but we know we know it, even if, oops! did that little solo come out of MY mouth? Never again, nope, won't make that mistake twice! It doesn't take long to align to the space, the orchestra, the new energy of something about to happen that is exhilarating and, yes, fun!
I think the most disorienting part of dress rehearsal is the appearance of an orchestra where once there was only piano (though Arthur's piano playing is far from "only"). Suddenly the richness of the instrumentation is there flowing and weaving with our singing. What was for weeks implied by the piano is suddenly the pure sound of the clarinet, a mellow undertone from the bassoon, a merry or solemn rise from the strings—or a heart thumping beat from the drums. They round out the sound of voices, they complement and they contrast. It is a sound that has become whole. It works! Our scant audience of friends (we see a few singers there who have taken a sabbatical this spring—and our good friend Betty Kelly, who says the dress rehearsal is a special time which she loves to watch) seem to like it. The soloists have figured out how to get up to the front without banging into the bassoon, they sing beautifully, we come in when we're supposed to—that's how it works. I guess we're ready.
Yes, we're ready! Let the fun begin!
– Martha Magane
In Rehearsal Blog – The Fall 2018 Season
Gratitude
It is Friday morning as I write these words. THE Friday morning of the three days of concerts. My thoughts are not about how much work we have put in, not about the huge effort and energy it takes to sing three concerts in three days; I am not thinking about the sacrifice of personal time I make in order to serve on the set up crew. All I can think about this morning is gratitude. So much gratitude to be able to march into Town Hall tonight with my fellow singers, gracing the community with our voices and spirit. It feels like such a huge privilege.
A wise friend of mine used to tell me that there are things we do that are "have to do's," and then there are the "get to do" things we take on as chosen responsibilities. The "have to's" are things like brushing teeth, washing dishes, paying bills— duties of various sorts. The "get to do" things are more about what we do for the greater good. We get to raise our children, take care of our elderly parents, listen to a friend who needs to be heard, make environment-friendly choices— we get to be of service. Not everyone has these opportunities. Not everyone takes the opportunities when they are available to them. And so not everyone reaps the benefits. What are those benefits? They are infinite and immeasurable. The old adage, "you reap what you sow" is so true.
Of the many benefits of singing in community, the one I appreciate the most is the feeling of belonging. It is well known that the most important indicator of health, quality of life and longevity is one's social connection. Humans are social beings, and it's those connections with others which help us thrive. It is also well known that gratitude is a powerful and rewarding attitude. I am so grateful to have gratitude.
Thank you, Allison. Thank you, OCC Board. Thank you, fellow singers and volunteers. Thank you in advance to our audience. And last but definitely not least, in fact most of all, thank you Christopher Vazquez, my number one singing partner who became my husband earlier this year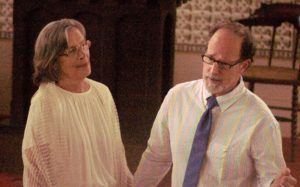 – Kat Black
The Music Lives Inside Me Now
After the note-learning is well-behind me, though it required hours of focused study and mindful repetition;
After working to blend my voice with the other voices, as we rehearse together each week, learning to hear the other sections, as well as the singers directly around us;
After coming to know the instrumentation and anticipate my entrances, by careful listening to recordings of concert performances and following along in the score;
After incorporating the dynamics into my practice, following Allison's wise guidance as she shows us how they allow the full expression of the composer's vision;
Now – finally – the blissful result has come.
The music lives inside me now.
It is with me all through my days, and even my nights. I literally feel a rush of emotion as the melodies play through my mind. I experience goosebumps – not on my arms, oddly, but on the sides of my neck, where my blood flows up from body to brain.
And I have become aware of my limits and my imperfections. There is where I sometimes feel unsure of the rhythm. There is where I struggle with the lowest notes my voice can produce. There is where my enthusiasm makes me rush or sing just a little too loudly. There is where my concentration sometimes lapses.
So I will go into my private space at home and rehearse again.
But I am not feeling dismayed. I am just one voice – one of almost 140 voices – that will join together in performing these beautiful works. We all have applied our passion, our skill, and our hours of practice. We have experienced the frustrations inherent in the process, as well as the amazing joy when we have achieved the sound and emotion of a piece and are standing totally still while the orchestra completes the movement.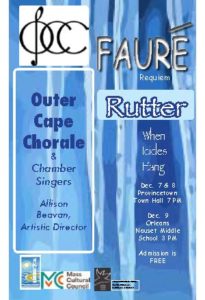 The emotion in the music has entered me now and I am feeling awe, joy, sadness, pain, and redemption.
I want to sing it perfectly.
I want to release the emotions that I'm feeling into the sound of my voice.
I want to be worthy of the music.
– Jeff Tagen
A Different Perspective
For the past few years I have been an alto. I met wonderful singers and actually got to see Arthur at work from my place in the section! This year I have really had the opportunity to see our chorale from different perspectives. Every week, at the check-in table, I get to greet everyone. There are smiles, and questions, and quick greetings. Most importantly, and invariably, the joy everybody has when they walk in is palpable. You can feel it. Everyone wants to be here. Everyone chooses to be here. From behind the table I have had the chance to meet everyone! What a wonderful perspective…. I so look forward to saying hello to each of you every week!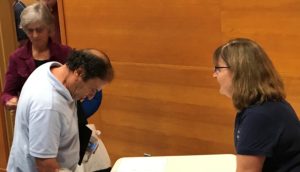 I also moved to a new section this semester. I am a second soprano…who knew? Certainly, not me. I have been a happy alto since 4th grade. Now, I look over at my alto friends as they wait patiently for their entrances and work magic with tricky harmony. Some of them send winks or finger waves across the room. I smile to see them all. My new sop 2 friends have made me welcome. The first few weeks several made sure to ask my name, share theirs, and offer a little friendship. We, like the altos, often have tricky harmony to blend in with the rest. Singing from this side of the room has given me a new view, another new perspective.
Of course, there is the music. Allison often reminds us to think of the music in a certain, unique way. To gain the right tone or have the right feeling we are asked to have a "Rockettes with feather fans moment" or "Wow, an owl!"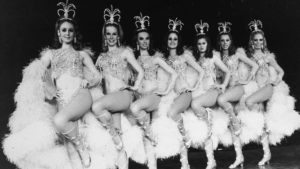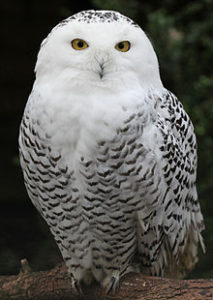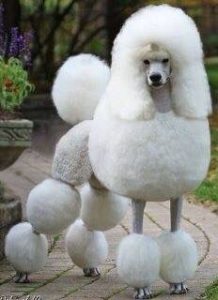 One of my favorite comments, written in my score, is to "think of a French poodle!" These unlikely directions help us with our musical perspective. We all gain when we look at things in a new way. I am so fortunate to have these new perspectives of the music and of our chorale.
– Barb Honda
Turning the Last Corner and Seeing…
…UGLY Sweaters!
Having had Thursday off from our rehearsal schedule to spend the day feasting with family and friends, we did catch up with an intense Saturday rehearsal (Allison is still taking notes, so we know there's more work ahead!), running through the Faure and the Rutter, doing some backtracking to polish up some rough spots. All while we sat there among some pretty interesting holiday outfits, a few embellished with flashing lights, others with garlands and bows, one shrunken sweater on the shoulder of a bass, and a couple of odd geometric prints which stood out from the tenor section.
After working for more than an hour, we were finally able to do what we all had come for: vote on the most ugly sweater. But I really have to question the term "ugly" in relation to loud, obnoxious holiday outfits. When people look like decorated trees should they really be considered ugly? Will leave that for you to figure out.
Ugly sweater wearers were called to the front of the group to strut their stuff.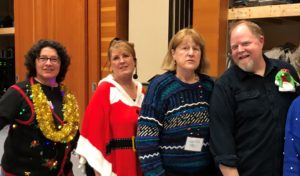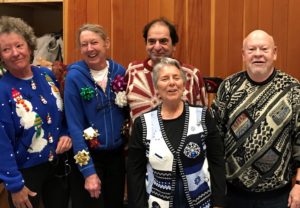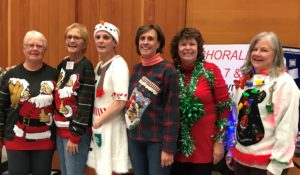 The OCC Board chose the finalists.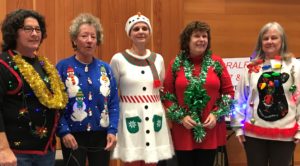 The Chorale voted by singing a tone (loudest for the winners). It was a clear choice. The winners were:
Mary Avellar! Kris Nasinnyk!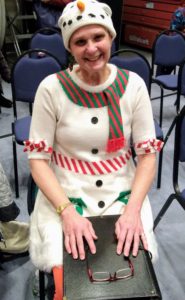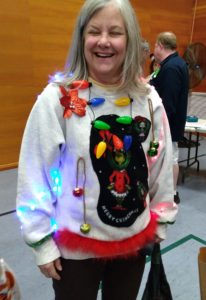 And, the proud recipients went away happier than a Publisher's Clearing House winner with (1) for Kris, a Thomas Kinkade clock (perhaps regifted as it was in the box upside down) which plays a carol every hour. Not sure if it came with a battery, but I bet it won't have one after a few hours; AND (2), for Mary, a calendar of Shakespearean insults, one for each day. Maybe we'll have to avoid her next year as she might say something nasty like "You Greasy Joan, Go Keel the Pot!"
– Martha Magane
Do You Hear What I Hear?
To sing or not to sing? There is NO question.
She stands on the podium, lifts up her arms.
He tickles the ivories with whimsical charms.
Music commences, it stops and it starts.
Remember dynamics, it comes from your heart.
Look up from your pages she chuckles and roars.
The music's out here not in your scores!
To everyone's wonder, delight and good cheer,
Our music is ready for All to hear!
– Mary Avellar
Kathleen's Surprise

We have been so fortunate over the years to have been treated to Kathleen Henry's talks on aspects of the music we're learning, singing, and becoming oh so intimate with for several months each spring and fall. Tonight a group of us gathered at the library before rehearsal and, true to form, Kathleen expanded our knowledge of the Faure Requiem and Rutter's "When Icicles Hang." Then (surprise! Gulp!) she pulled out a stack of blank paper and pens and instructed us to write our own poems in sensory response to winter. The results are too wonderful not to share, so here are a few!
The Outer Cape Chorale in Winter by Julia Louise Perry
In winter we arrive in the dark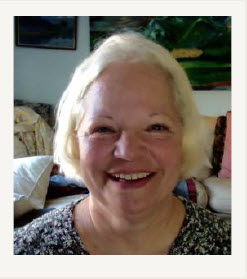 and leave in the dark.
The darkness surrounds our small
haven of light and music.
Our singing warms the room,
and cares are left outside.
It is strange to sing of winter and
cold amidst such friendship and harmony.
We must imagine cold to put it in
our music.
Conjuring feeling and description
with notes, rest, tempo and breath,
We are wizards of worlds unseen, but
heard.
Eventually we reach the end of our
time together,
And carry the music and warmth
with us out into the cold night.
Winter by Char
Sharp as the sting of last week's flu shot,
the unexpected morning air greeted me—when all I wanted
was the paper.
Evening forecasts promised something milder— but then clear as mud
were the words "upper level low."
Must be time to unearth the hooded coat, so long it covers
boot tops, ensuring milder temps inside garments than out.
A side-effect is head to toe incognito.

A haiku by M.A. Wells
Longing for sun's warmth.
Dreaming…remembering joy
Gets me through winter.
Late November by Wendy Willard
The tiniest bird of all,
The golden crowned Kinglet
Searches for seeds in the
dried grasses in my driveway.
For company he has the
female Cardinal with her red
lipstick. Her mate poses
by the feeder.
The house is warm enough, but
I need several wool, cashmere, and
down layers when I venture
out to fill the suet and seed
feeders.
Brave or uncaring Nuthatches
take sips from the bird bath
in spite of my proximity.
Storms by Karen Strauss
I feel the sharp tang of winter in my bones
A promise of storm yet to be
The wind, swaying the trees,
Sets up resonance in me
And I vibrate
As the air pressure
Pushes me, distracts me
Buries me.
As the snow flies covering the landscape
I focus on the white, the howling wind,
The swirling flakes that pelt the windows
I can almost taste their cold
As I will the storm past.
I revel in the beauty of icicles on the eves
The blue light bouncing off the snow
Setting a melancholy mood
As the wind settles, and sky clears
And quiet reigns, and I rejoice.
Objects in Mirror Are Closer Than They Appear
Just when I've relaxed into the weekly routine, I suddenly realize that we're only a month away from concert time. I guess there were a couple of sure signs: Allison working us through long phrases of music and the fact that timbre order is almost complete. (Aside: Isn't timbre a weird word? Every time I write it, it takes me three tries to get it right. Worse yet, I sometime forget to check what I've written, and someone corrects me, while mumbling "What does he do for work?" under their breath. It kind of helps me understand why non-native speakers are so confused when trying to figure out how to write "through," "rough," and "dough." But I shouldn't start an aside within my aside, so I'll just leave that one alone.)
At any rate, for me, week ten is the panicky-OMG moment when I realize that I am still having trouble with a phrase or two that I was having trouble with a month ago. It's the week I clean up those last details. Hopefully.
As usual, the warmup exercises were sec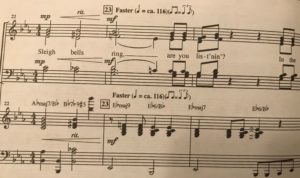 ret workouts for phrases in the music. No goof-off time in this group! This week we smoothed our transitions between vowel sounds used in the Fauré. Afterward we applied all that work by singing through Sanctus and Offertory. There were some very nice moments. We then switched gears (to put it mildly) and sang "Winter Wonderland of Snow," a mood change that was not for the faint of heart.
The rehearsal was jam packed. We pretty much sang through the all of the pieces with Allison taking frequent notes. Seems as if she will have quite the list of notes for us next rehearsal. Hopefully it's not too scary. I always like these later rehearsals when we start making it through all the music, because you can feel huge pieces of the puzzle shifting and settling into place.
Another aside: My favorite section in the Rutter is Blow, Blow Thou Winter Wind, especially after Kathy let us know that it comes from "As You Like It." Well, actually, it was my favorite section until I learned that there are places in which the basses are more important than the tenors. How can that be? Is it even possible? I mean, we're tenors! The cruelty of the world is really quite mystifying and heartbreaking. The song is now home to more ingratitude than just weather and man! If the poem was sad to me before, it's become even more so now.
Less than 30 days left.
– Curtis Balom
Metamorphosis of a Musical Relationship
by JoAnn Phillips, Sop II
Though credentials and talent
were part of her history,
our new conductor was
rather a mystery.
Her methods dismayed us
as some were quite strange.
That oohing and circling the air
seemed deranged.
But with timbre order
and kinesthetic learning,
into better choristers
we were gradually turning.
Trilling, solfeggi
and exercise bands….
Such were the tools
in her capable hands.
And now we are settled
into a groove.
Joyful with Allison
and eager to prove
Her coaching and prodding
and high expectations
have taken us far
from our first trepidations.
The Carpool Divas
We are the "Carpool Divas". How we came to this name is for another time. Every week, we begin the same way. The group begins to assemble beginning in Brewster, where three of the Divas jump into one car and travel to Orleans. There at the Stop and Shop parking lot, the remaining two Divas complete this happy band of singers.
Now to the seating arrangements! As there are 5 of us and we all (or most) have RAV 4's, the car resembles a sardine can and we are the top layer of sardines. We buckle up. The audio goes something like this – " Should I sit in the middle I have the shortest legs?" " Are you sure you do not want to sit up front?" " Did you get in yet?" " Is it too tight?" " Oops, excuse my hand!"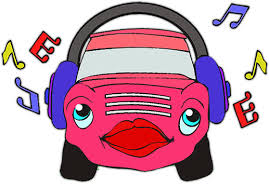 Once we are all snuggled in, we are good to go off to Truro. As we are all retired teachers, the conversation often turns to news from our friends from our previous schools, to politics (thankfully we're all of one mind on most issues), to movies, to where we will go to celebrate after OCC's opening night, and of course, the music pieces we are presently preparing. We talk about the difficulties we may be having with a piece, which piece or pieces are our current favorites, and how every rehearsal is like a voice lesson!
Once rehearsal is over, we connect with other OCC friends, make bathroom runs, and assemble once more in the designated driver's car. We are tired but satisfied with the work we have done. We also know what we each need to practice for the next rehearsal. As the weeks roll by, we appreciate how much fun we have together every Thursday, realize how lucky we are to have met each other, and how fortunate we are to be making beautiful music with such a warm, welcoming, caring and always fun Outer Cape Chorale!
– Diane Carlson Carol Etzold Cathy Kautz JoAnn Phillips Nancy Sweeney
Our Carpool
In the summer of 2016, I attended a performance of music and readings that focused on the sea at the National Seashore's Salt Pond Center. It was a concert by the Chamber Singers of the Outer Cape Chorale. I had recently retired after teaching at Oberlin College in Ohio after 35 years. I was now a year-round resident of Wellfleet, where long ago I had attended summer camp, starting at age five. After the concert, I was reading through the concert program and came upon a note from the musical director, Allison Beavan, who invited people to join OCC.
I had been in chorus in high school and then again on and off when I lived in Ohio. Since Oberlin included a music conservatory, local choruses abounded; the highly competitive conservatory choir, the early music chorus, and small ensembles formed to sing commissioned pieces. They were filled with students who were majoring in music, so membership constantly changed as students entered, sang for a few years, and then graduated. Instead, I joined Musical Union, a long-standing choral group in the small town of Oberlin, Ohio, in which more than half the chorus were townspeople. We sang the Brahms Requiem, Stravinsky's Symphony of Psalms, Handel's Creation, the Mozart Requiem, and more. I met more people in that chorus—of all ages, occupations, and interests—than I did in any other activity.
When I read Allison's invitation, I realized that I missed singing. On the other hand, I had not sung for more than a decade and, truth be told, I never had really learned to read music very well. Besides, the idea of auditioning was alarming. And then, I couldn't drive at night anymore because my eyes were not what they used to be. I was about to dismiss the idea but, as I read further, I saw that in her invitation, she had anticipated and refuted all my possible reasons for not joining OCC. She stated that one didn't have to audition or know how to read music. Moreover, she specifically mentioned that many members of the choral carpooled to rehearsal.
I attended the first rehearsal in September, when it stayed light long enough for me not to worry about night driving. Then one day in Wellfleet, I happened to run into a woman who had performed with the Chamber Singers in the summer. I recognized her from the concert because she had been wearing beautiful earrings then and was again wearing a different pair of beautiful earrings. I knew her name was Sue Peters, because her picture appeared in the concert program in an ad from a real estate office. I told Sue that I lived in Wellfleet and was hoping to carpool. She mentioned some singers that lived in Wellfleet. When I asked several of them if they had room for me, most had full cars, came straight from work, or went in others' cars.
I asked Sue about her carpool, which included Suzanne Doherty and Mary Niccolini from Eastham (see photo). She said they had room for one more rider, so I joined them. Who knew then that, by joining the carpool, I would learn where the nearest trustworthy dry cleaner was, discover the Brazilian Grill in Hyannis (Sue's suggestion) when we went out for our-end-of-the-year lunch, find someone who could repair my favorite earrings, discover good crackers to serve to visiting friends who adhered to a gluten-free diet (Suzzane recommended "Mary's Gone Crackers"), and learn a great recipe for gazpacho with watermelon (omitting heavily acid tomato juice) from Mary?. And, the most momentous achievement of my carpool in my first year in OCC was still to come.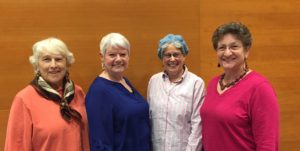 By now, after more than 2 years in the chorale, I know that at the beginning of every season, when we first get our new music for the next concert, I'll feel overwhelmed. But I didn't know it during my first season in the chorale. There were so many new pieces to learn and it looked like everyone around me just picked up the notes, rhythm, and dynamics right away. I listened to the Alto CD regularly, but I had been a soprano earlier and found it hard to follow the alto parts. Finally, I decided that I was not a very good singer and should not remain in the chorale. When I announced this to my carpool, each person told me that she felt the same way when she first joined the chorale but had ended up returning season after season. They urged me to hang in there until the December concert and then see if I wanted to stay or not. Sure enough, we spent the last few weeks before the concert polishing our pieces. By the time we performed, I knew most of the works by heart and the pleasure of performing them with 150 fellow singers convinced me that the chorus and my carpool were crucial to living a fulfilling life!
– Paula Richman
The Shakespeare In The Music
I am absolutely loving the poems John Rutter has collected for his cycle of songs "When Icicles Hang." My curiosity was piqued by the two pieces that are songs from Shakespeare plays. It seems I am not the only one in our group who is trying to make sense of the piece "Blow, Blow, Thou Winter Wind." There is that beautiful haunting melody and harmony that Rutter has created that seems to belie the meaning of the words. "Loving mere folly" ? "This life is most jolly" ? The tune doesn't sound very jolly! So, is this wistfulness? Irony? Sarcasm, as someone suggested?
So back to the source I went! – to Shakespeare's "As You Like It." It's one of his comedies of contrast- between the social constructs of "civilized" court life, and courting life (!) and the forest primeval where everything gets turned around, and true identities are revealed.
T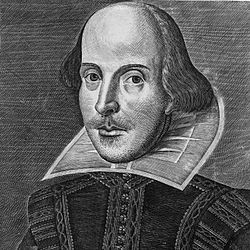 here's obviously a lot more going on in this play, but for our purposes, I go to the Act II, scene 7, where the song we are singing appears. The noble Orlando is exiled from court, his life at stake. He and his manservant Adam escape in to the deep forest. Hungry and tired and lost, Orlando comes upon a small band of folk gathering around a meal. He draws his sword, ready to do any kind of battle necessary to secure food and shelter. To his surprise, he is greeted with kindness, and he and Adam are invited to share in the meal they are eating. It seems that in the untamed wilderness, Orlando finds more kindness than he did at court.
Entertainment for the forest meal is provided. A song is sung:
Blow, blow thou winter wind.
Thou are not so unkind as man's ingratitude.
Thy tooth is not so keen because thou art not seen,
although thy breath can be rude.
Heigh ho sing heigh ho, unto the green holly.
Most friendship is feigning, most loving mere folly.
Then heigh ho the holly. This life is most jolly.

Freeze, freeze, thou bitter sky,
That dost not bite so nigh as benefits forgot.
Though thou the waters warp, thy sting is not so sharp
As friends remembered not.
Heigh ho, sing heigh ho, unto the green holly.
Most friendship is feigning, most loving mere folly.
Then heigh ho the holly.
This life is most jolly.
And now I quote from internet "research" – from sparknotes.com, for what it is worth:
"This melancholy poem might seem strange in the middle of a comedy about such knotty issues as human relationships and love. The poem suggests that human nature is far crueler than mother nature. "Heigh Ho! The Holly!' lauds the virtues of nature, and the holly which is an evergreen. An evergreen, in turn, maintains its green color despite the harshness of the weather around it… (so) despite human nature's fickle character, beauty and virtue persist, and "this life is most jolly."
Hmmmm….. I'll be thinking about this song differently now when we sing it!
– Kathy Musser
That Thing That Happens
Lately when I leave rehearsal I find myself saying, "Whew! That was a workout!" Of course, mine is nothing compared to Allison's. She must burn a gazillion calories up there as she stretches her body and her imagination in an effort to help us sound our best. Our reward for all our combined hard work? Allison gets verclempt, teary, choked up – which, naturally for some of us, is contagious (sniff, sniff).
Again this week, that thing happened – parts I thought I knew pretty darn well while practicing with the CD somehow morphe

d into something I felt I've never heard before in my life. It's all those other people in the room; what a difference those other parts make! I have heard some OCC members describe the same experience, which always brings comfort and some hope that I'll know these pieces pretty darn well on Thursdays too… soon would be nice.
First altos stayed after to give Allison a little challenge with timbre order but, as always, she figured us out and "put us in our place(s)." As we left the building she said, "What a fantastic rehearsal! I defy any chorale director to think their chorale is better!" Gotta love her enthusiasm!
– Bonnie Bonse
The Music Man
Let's see… Over there are the Sopranos – those wonderfully talented women who serenade us with soaring notes. And here are the Altos, who form the sweetest harmonies as they sing what is undoubtedly the most difficult part. In the middle are the Tenors, whose glorious tones create melodic counterpart to the Sopranos. And don't forget the Basses towards the back, who provide the resonant foundation upon which all the other parts depend. Yes, that's all 151 of us!
And there is Allison on the podium a

t the front of the room. She leads us through our vocal warm-ups; teaches us tone, vowel sounds, and proper breathing; focuses us on capture the dynamics and expression of the pieces, and helps us create beautiful music. So that's everyone – we are all here!
Wait a minute! There's one more person – a most important and vital part of the Chorale. It's Arthur, our accompanist at rehearsals and the piano/keyboard player at our concerts. At rehearsal, Arthur has to be very versatile. Allison will call on him to play our parts from a passage – sometimes just one section and sometimes multiple sections in different combinations. Or Allison will ask Arthur to play the accompaniment so we can understand the chords, rhythms and progressions of the piece as we integrate our own parts to the whole. There are times when Arthur is pretty much playing all the orchestral parts at once! When he does that, we simply have to applaud. How does he do that?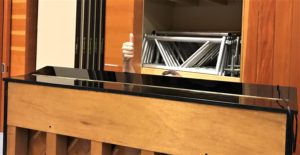 We rely on Arthur so much. And yet, although he is part of everything we do, we rarely see him – he is hidden from view behind the upright piano! Sometimes when we have done something very well, we see his hands come up from behind the piano, clapping for us. Or giving us a thumbs up.
I'd like to give him his due!
Arthur has played piano all of his life. He saw his first opera when he was 10 and soon began playing through opera scores for fun. He also sang in choruses throughout high school and college. Later he had the opportunity to sing with choral guru Robert Shaw in Saratoga and at workshops in Princeton. (Allison also worked with Robert Shaw – one of many things that she and Arthur have in common.)
Arthur McManus has been coming to Cape Cod since the 1970s, when his parents retired here. He moved here full-time in 2000 after a 24-year career as an editor at Reader's Digest magazine. He moved to the Cape with the intention of continuing to edit (for several years Orleans was the home of the well-known column "It Pays To Enrich Your Word Power") and pursuing his passion for surf fishing. All too soon, though, the seals ruined the fishing and he found himself making music more than editing words.
Arthur is currently the Music Director at St. Joan of Arc in Orleans. He has worked with Allison in other settings besides OCC. Arthur often played for Allison's Nauset High School choruses at their concerts, including their performance of the Faure in Manhattan.
I asked Arthur about his experience playing for the Outer Cape Chorale over the last few years. He told me that he loves our challenging repertoire as well as Allison's emphasis on good vocal technique. And from his place at the piano, he enjoys hearing the Chorale develop a fullness of sound, which reminds him of opera.
Of course, there is far more to know about Arthur than can be presented here. But I did want to share some perceptions from the Chorale members themselves – that Arthur is kind, modest, warm, funny, helpful, modest, talented, collaborative, amazing, and – did I say modest?
Although we don't often see your face during rehearsals, Arthur, you are so integral to our experience each week. Your work at the piano is crucial to our learning. Whether you are feeding us our starting notes, helping us go over the tricky parts of a piece, or playing the full instrumentation as we sing – you help us to understand the totality of the music and its expression. We salute you!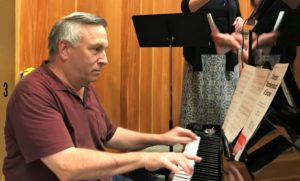 – Jeff Tagen
Putting in the Effort
It's football season, in case you haven't noticed. Tom, Bill, Gronk. Sometimes the games happen on a Thursday night, but they start so late (thank you west coast!) that their OCC fan base can usually make it home to catch the first quarter.
I'm thinking we have a something in common with the Patriots. Thankfully, it's not that Allison resembles Bill Belichick or that Tom Brady can sing an aria. It's practice! They practice, we practice. Over and over. We practice together once a week, but we also practice at home. We bring home our CDs, download practice files, and vow each week to carve a little bit of time out of our busy week to tackle the bits we just don't get or can't seem to keep up with when we're rehearsing on Thursday nights. And the practice is evident as we put together longer and longer lines and make beautiful sound.
When I was a kid my older sisters both played violin. They took lessons, they played in the high school orchestra and the Youth Symphony, and they practiced in the bathroom off of my bedroom, which was far from the babble of the TV or the quiet my parents tried to envelope themselves in at the end of the day. Lucky me! Over and over they'd run their arpeggios. And over, and over. These days I think of those arpeggios when Allison talks about "muscle memory." It's why we practice, to learn notes, and then to place them for recall as we rehearse and then perform. Much like an athlete!
I thought it would be fun to do an informal and entirely random survey of our members and find out their practice habits. Where and when do you practice? How do you practice? (Does anyone practice in the bathroom?) Well, it turns out we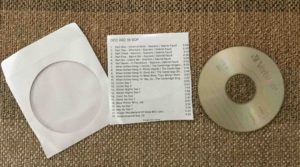 have a diligent and resourceful group. Most people make an effort to isolate themselves from annoying spouses—especially opinionated ones. Sitting at a computer and listening to files seems the common denominator, but others sat in their living room or at their kitchen table with their music. One bass even has a music room (he has other talents which involve brass instruments). A pair of enterprising altos practice together at a set time each week. A tenor who lives upstairs from a business and doesn't care to serenade them says she sometime drives to a quiet parking area in the National Seashore and listens in her car while following along with her music. Many listen and sing along to files or CD and then use a piano app to review tricky passages. And those people you see driving down the highway channeling Renee Fleming? They are our OCC friends, learning their music. Do football players do that?
-Martha Magane
Reflections On My Birthday Rehearsal
This past rehearsal was interesting for me. It was my birthday and family suggested they'd love to spend part of it with me and the only way to do that would be to attend our rehearsal. My X, Lanny, still and always a dear friend promised he wouldn't sing along and his wife Carole, also dear, said they'd be very quiet, as inconspicuous as they could be, given that there were 3 of them in this birthday retinue. Oh and "Susie too" – Susie for me because I've known her since she was 14 and although she's now in the same 'women of a certain age' group as I am and is known now as Susan, she'd be there as well, my always and forever friend and sister in law (you divorce a spouse but not your sister in law). So I'd consulted with Shira as we were driving to Truro and she assured me it would be ok, her kids always attend an OCC rehearsal when they visit, she was sure Alison would be 'fine' with it. Having arrived I waited in line at the front where Alison was about to begin her rehearsal, told her it was my birthday and after "Happy Birthday" she assured me it was no problem having my family there. Then I worried about where they would sit and when they'd appear. In our family of Wellfleet lovers you drive 7 hours until nightfall and land at PJ's for lobsters and clams, that's the rule. I texted Lanny and Susie "Yes, Alison says it's ok, so come, be quiet, welcome" in the hope that they'd notice them, in between the lobsters and the clams.
But they didn't. So those guys never showed up but the fact that it was my birthday and that they could arrive at any minute added to my list of concerns, one of which was to find and hit the accidentals as they pop up in the Rutter "When Icicles Hang." You know, "To-wit To Who! A mer–ry note…" For example. But, if you don't have a piano and your car CD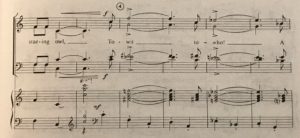 player hasn't worked since Jon Arterton moved away, the options that could have facilitated making the best mental notes of the seeming mine field of 'accidentals' and of the dynamics of very slowly evolving crescendos and diminuendos of Faure's requiem or the fast ones of Anon's "Hay,Ay" well, they aren't at your disposal. Of course, I do the best I can. I listen to the CD Alison made for us altos as often as I can, sometimes sitting down and practicing the music, sometimes listening as I wash the dishes.
Alison teaches us that the voice is the body is the muscle memory is the voice. So 'pay attention' to how you breathe, fill your belly with your breath and it will sustain you through those high notes or long notes and phrases of no breaths and if you run out of breath, well don't kill yourself trying to hold on, give it up to someone who can – and hold on. One of Alison's mantras is "Breathe." The corollary is "Breathe more."
As part of our warm-up we did the usual solfege. (The rationale had escaped me for 3 semesters until this one, when for some reason those hand gestures finally seemed to support and take hold of the voice where it needed to go, as in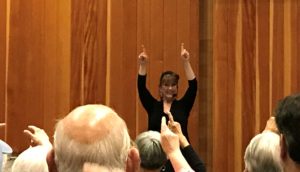 'embody the voice' perhaps). Alison as usual teaches us as we move through our scales, chords, arpeggios. As I recall: If you go lighter on the lower note of an octave rather than landing heavy on it before launching the voice to the higher note of the octave, then you will get where you have to go without bruising the note, your vocal chords or Alison's keening ear. "Not 'ayee' but 'ah' and not 'hai' but 'heh' will keep you in tune and save you from going flat. Sharp? Well that never seems to be a problem with any of us.
Alison had us use our arms and fisted hands to throw a high note way up and out there – and at Arthur's suggestion Alison had us aiming for the basketball hoop at the far right wall. And oh boy did we throw those voices up and into the hoop. I do believe that Alison has converted even the most skeptical of us to the idea that using the body frees and shapes the voice. And I do know that my voice, our voices, have improved markedly with Alison's instruction. And at this practice, as with all the others, I learn something remarkable about singing, the voice, the voiced body from Alison.
I sometimes scribble Alison's colorful analogies and images into the margins of my sheet music. Most of Alison's imagery seems to be inspired by food. A few examples, one from 9/20 and a few from the one I'm memorializing: as we were practicing Faure's 5.Agnus Dei, Alison gestured "It's like pulling taffy." Or this one from 9/27, in Faure's 6.Libera Me, where we crescendo from "pp" Tremens to 'et ti me o… and "f" "dum discuscio" which Alison likened to "Oh, It's like when you go to a big wedding and there's a big chocolate fountain" and she gestures broadly and we laugh. I've never gone to one of those weddings with a chocolate fountain. But I do like chocolate. When I read the words to this particularly dynamic section, section B ("trembling trembling I stand before thee in fear and dread thy wrath shall descend on the earth") I was persuaded that Alison's analogy was uniquely Alison, another expression of a playful spirit who clearly gets more than a mouthful of inspiration from food, more specifically from sweets – candy and cake.
So my relations never showed up. They texted me, I met them after rehearsal and we had birthday ice cream cones at Savory. I emailed Jeff that it would be impossible to go home and write a few paragraphs for my blog entry given that my guests, including 2 medium sized well-behaved mutts, had to be bedded down. And then I was too tired to do anything more. So here it is, my blog entry for 9/27.
– Elaine Baskin
Learning in Pieces
One might expect that, to learn a piece of music at a rehearsal, you'd start at the beginning and progress measure-by-measure through to the end. But it turns out that there is another way – a most effective, interesting, and creative way – to learn.
In virtually every piece, you will find a theme or passage that is repeated throughout, with different variations. Sometimes the passage is repeated in different keys, or the harmonies are shifted among the parts, or the tempo and expression changes. But learning these passages can quickly familiarize you with the essence of the piece.
So, in rehearsal, we frequently jump from one page to another. But we usually are following the occurrences of the theme, to reinforce our learning by experiencing its uses and variations. That's how, in the first couple of rehearsals, we wind up singing from the pieces – all parts, together in harmony. It's a way to jump start our learning and it helps us see that the music is attainable.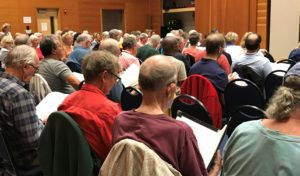 Another part of the strategy is to use our time together on Thursdays to learn how the individual parts fit together. We learn our own notes as we practice at home (or in the car). But when you hear the other parts singing along with you, for the first time, it can really be hard to remember your own part! We need to train our brains to hear the other parts as they relate to our own, whether forming harmonious chords or creating an interplay of notes and phrases.
So when we are together, Allison will often have one part sing a passage, then another and another. Then we sing in combinations – maybe the Altos and Basses will sing their parts together, or the Sopranos and Tenors. And finally, all four parts are singing together. It sounds amazing!
At rehe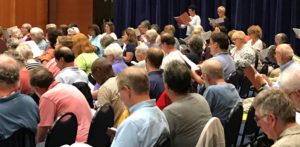 arsal, Allison shared with us that she has a complete "concert roadmap" – an actual graphic that breaks down each piece in the concert repertoire into its components. These are the building blocks that we will learn and assemble. She knows how well we have learned each of them and what we need to do to bring them together into a musical whole.
Soon we will be singing the music from end-to-end. But for now, we're gradually mastering the incremental segments. Still so much to learn! But it's starting to feel good!
– Jeff Tagen
We're really underway
There were a couple of changes to the room this week: A long, mystery table with desserts sat between the S2 and T1/B1 seating, and there were town names posted on the wall. Desserts … cake?!
But let's do this in chronological order. First there were people signing in, getting settled, and catching up. Discussions ran from the music to home renovations to anything imaginable in between. Then there was the excitement of seeing even more people at this rehearsal. I'm guessing we are now at full strength. More chairs!
We started with our normal warm-ups, and as usual, Allison worked out ways to add exercises to get us ready for the various things we would need to do in the music. One addition today was octave jumps. Right after warm-ups, we worked through sections of our music that had these intervals, later combining them with surrounding sections. It was a very productive first hour.
Let them eat cake … while they meet and greet with their neighbors.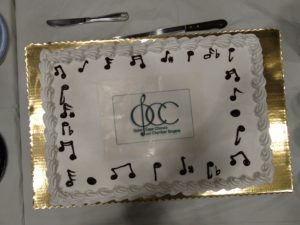 The tables were set up to serve desserts for our meet-and-greet. While eating cake and standing near your town name, you could meet others that you might not have known were your neighbors. (Sadly, it wasn't until everything was explained that I would have the horrifying realization that singing T2 meant I had an insurmountable logistical problem in getting to the cake quickly. It was a traumatic moment, but afterwards someone who was raised in a large family took me under her wing and explained table calculus to me, making sure I would be well prepared for next time. A kind lady.) The meet-and-greet was a lot of fun. I met five people that I had no idea live in town with me, and I think others had similar experiences. This was a great way to break the pattern of just talking to the people who sit around you.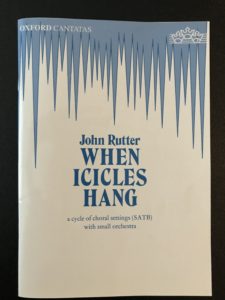 Finally, it was back to singing, working the tricky rhythms and chords in "When Icicles Hang" and "Winter Wonderland of Snow." It's a great feeling when you hear complex measures click into place, because you can start to imagine what it will sound like once we truly know the pieces.
This week was step 3 of 14. It's looking like another wonderful concert is on the way.
– Curtis Balom
The hardest part begins
I love Thursday nights during Chorale rehearsal seasons. When we're starting out we have new music in front of us full of unexplored time signatures and rhythms. At first, it all looks impossible. What was the composer thinking? Does it have to be so complicated? How can a group of singers, some experienced, some beginners, many a little seasoned or looking at a long break between that high school chorus and the present, ever learn the music, let alone master the nuances that will make a performance an experience for audiences to remember? I know we will because we have done it before. We'll explore the notes, learn to feel the rhythms and dynamics of sound, then hear those very notes and rhythms as we're falling asleep at night or walking in the woods with the dog.
At first, it all seems like little bits and pieces. Then a rhythm takes form. Tonight, a section in John Rutter's "When Icicles Hang" called "Good Ale" quickly took hold. Well, it is a drinking song, and we know how those repeat endlessly until the bottle is empty! A little analysis by Allison of the intervals and how one part relates to the other and a picture forms. Rutter has given us a drinking song with some subtle variations that make it more interesting than the song sung at the sticky bar during last call! I get it! Voices embrace the theme. We're off! Just a little stuck on other parts, but little by little it all makes sense.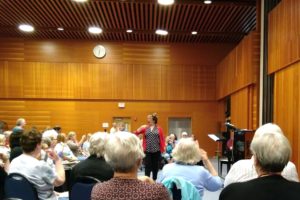 Tonight Allison worked with us on dynamic changes in The Faure Requiem, and proceeded to show us how beautiful the sound can be as we layered part on part while paying attention to volume changes. We made some gorgeous sounds!
So good to see people I've known for years singing with the Chorale or in groups that preceded it: The Provincetown Choral Society, even a few from the Wellfleet Cantores of the 1980s. And now we sing with a group of 150 people who look at those pages of music in September and by December will have made them their own. What kind of love is that?
– Martha Magane
Homecoming
Welcome, Friends of the Outer Cape Chorale! This season, we're trying something new – a blog to share perspectives about our Fall 2018 season, from the start of rehearsals through the concerts themselves. We hope to have a few different authors contribute to the blog as we go along.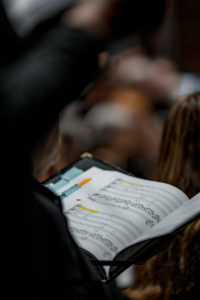 Soooooooo, here goes! Thursday, September 6th was our first rehearsal of the Fall 2018 season. It was exciting – as it always is – to see all the returning singers (and several new singers) come thru the doors. By 6:15, the line at the sign-in table was actually outside! People were smiling and laughing, giving each other hugs and chatting about their summers. Even though we haven't seen many of our singing colleagues since May, it felt like we never left.
Carl, Curtis, Chris, Kat, Madir, and other members of the set-up crew had already assembled the chairs, moved the piano, and hooked up the microphone and speakers. Kathleen set up our Member Matters table. Barbara helped people sign-in and answered questions. Sue, Janice, and Fred took in the dues and handed out the music and practice CDs for the December concert. Rita welcomed new singers and helped them register, Mary Alice, Amy, Mary, and others guided them to their sections and introduced them to other singers.
It might have looked chaotic, but soon Allison was leading us in our first "oooooh" and into our vocal warm-ups. Suddenly, we were a group, an ensemble, a chorus – ready to join together making music and to delve into the new music in our hands.
One of the things that fascinates me at every first rehearsal is how quickly we actually begin singing phrases from the pieces. For many of us, the music is completely new! But Allison focuses us on a section of the music and Arthur plays our notes for us. And there we are, singing short passages in four (or more) parts. And we sounded good! It's so encouraging to make immediate progress. We must have a very smart Artistic Director!
As it usually does, the rehearsal flew by. Soon everyone was stacking chairs, hugging goodbye, and heading home. For me, as it is pretty much every time, it was the best two hours of my week! Can't wait until next Thursday!
– Jeff Tagen