In Rehearsal Blog – Our Fall 2019 Season
Witches, Ghouls, and Gandalf, Too!
Photos by Martha Magane
Last week's rehearsal fell on Halloween night – and some of our singers came ready to scare you!  Or, at least to Trick or Treat!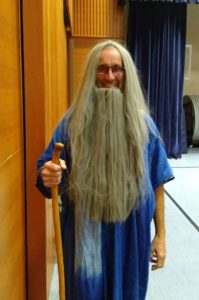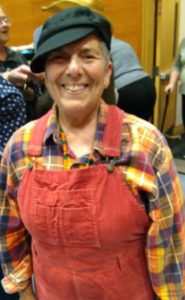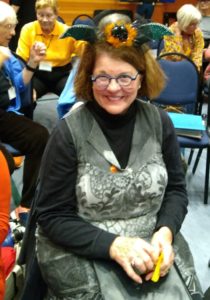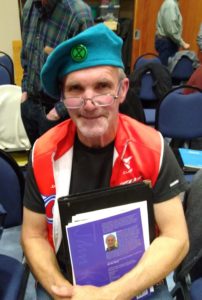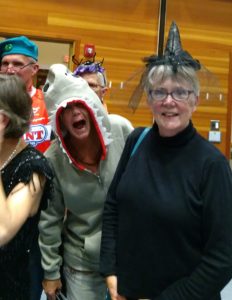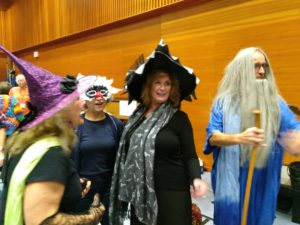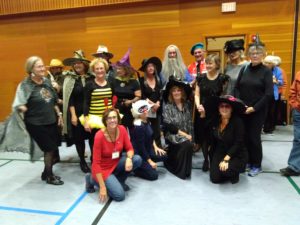 Allison had a bag of treats for everyone!
Oh, and we rehearsed, too!
What to do on a Night Off From Rehearsal
By Martha Magane
Allison threw us a rehearsal curve ball these next two weeks, scheduling sectionals on Thursday nights and rehearsal for all on Tuesday.  Getting instructions straight – especially those which mean a change in routine – is something adults seem to have some trouble with.  After a lot of head scratching and a few reminder emails, I think most of us figured it out without a lot of stress.  At least that's what I hope, but c'mon people, a little change does us a lot of good!  Right?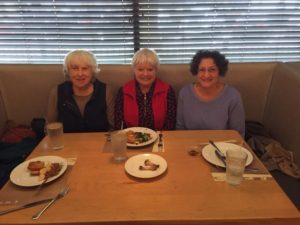 What to do with our "off" Thursday night?  Well, Allison suggested some socializing, so here is a carpool threesome, Mary, Suzanne, and Sue (they're usually a foursome with Paula, but she wasn't able to attend) who decided that sounded like a fun idea and went out to dinner.
The big question is, what did they have with their sixteenth notes?  Or, did they think at all about their sixteenth notes?  Maybe those chicken bones know.
Which, of course, leads to the importance of those sectionals, so oddly scheduled on Thursdays.  Learning those runs of sixteenth notes, especially the ones which repeat but not exactly, or do a little hike up the rocky side of the mountain over flats and sharps, are a challenge, and it seems that Allison has some tricks to help us make sense out of them and the other tricky stuff that is Bach and Handel and Rutter.  It always seems that after sectionals the confidence level grows and we make better music.  Who ever said making music wouldn't be work?  But, look at those three giggling over something.  Could be their sixteenth notes.  Raise a chicken bone to those sixteenths!
Meanwhile, Dianne and Jeannette took a road trip to Falmouth to entertain their inner children at the Highfield Hall and Garden where you can see them peeking out from a hobbit-like stick structure called "A Passing Fancy."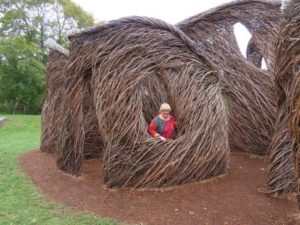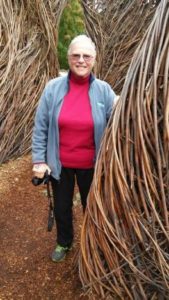 The structure is made of willow withes, designed by artist Patrick Dougherty and was assembled by a huge group of volunteers last summer.  Remarkably, it withstood the high winds of our latest northeast storm.  Do its gracefully swooping sticks make you think of anything musical?
Hope the rest of you altos and sopranos did something fun our day off while the tenors and basses learned their sixteenths (which they did a marvelous job showing off–and showing the rest of us up– at Tuesday rehearsal).  Our turn next!  And it's time for the tenors and basses to get our and eat some chicken or visit a hobbit house or surprise us with your own version of socializing.
OCC – What it means to me
By Deborah Minsky
I first joined this irreplaceable group in 2007, the season of Italian Opera Choruses, and it changed my life  – I must admit, though, that signing in on my very first night of rehearsal then was a bit of a challenge, just to get through the slightly snobby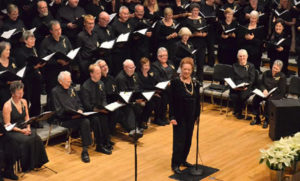 attitude displayed by a few of the longer-term members – I thought, "Oh my gosh – this feels like junior high." But I sucked it up, calmed myself and persisted. I'm so very glad I stayed, because I quickly found my comfort level and an ocean of new and old friends.  Think Betty Kelly, an OCC icon to many of us – back when I was about 9 years old, I had sung with her in the St Mary of the Harbor choir.  (Along with my sisters, my dad, and a pair of very enthusiastic sopranos who were life-long townies.)  I discovered also that many of the volunteers with whom I worked at the Highland House Museum were part of the group as well.
Soon I found myself falling in love (platonically) with virtually the entire Basso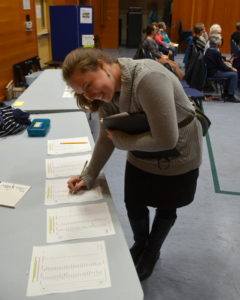 section; especially a certain sweet super-singer who used to wear a kilt whenever he soloed.)  And I especially bonded with my fellow altos.  As geographically diverse as we are – spread out across the Cape and even off-Cape – this group epitomizes the beauty of getting together for a common purpose.  (By the way, the afore-mentioned elitism is long gone.  Our current and most recent sign-in members are always super friendly, cordial, and helpful.)
Whether we are doing Bach, the Beatles, or even the Lion King, OCC has proven many times over that singing is excellent for our health and well-being.  Whatever the chosen repertoire, I will follow wherever Allison leads us.  I'd even sing the phone book under her direction, if she so chose.  But I'd rather she consider selections from Leonard Cohen.
In Rehearsal Blog – Our Spring 2019 Season
Putting it Together
It's bittersweet, our last rehearsal before concert weekend. Most of the hard work is behind us. It's time to make beautiful, expressive music—for an audience.
Dress Rehearsal always feels a little chaotic. There's the environment, Provincetown Town Hall, in all of its echoey grace and largeness; there are risers to stand on and lines of sight to negotiate with those around us; there's the orchestra, in the flesh, and it's our first time singing with them. So much is different, yet, because of Allison's foresight, so much is familiar. We know the music, we know where to stand, we're ready to go. How in the world is all of this going to work?
The music goes well—all that attention to detail has paid off—well, maybe a nervous mis-step here and there, but we know we know it, even if, oops! did that little solo come out of MY mouth? Never again, nope, won't make that mistake twice! It doesn't take long to align to the space, the orchestra, the new energy of something about to happen that is exhilarating and, yes, fun!
I think the most disorienting part of dress rehearsal is the appearance of an orchestra where once there was only piano (though Arthur's piano playing is far from "only"). Suddenly the richness of the instrumentation is there flowing and weaving with our singing. What was for weeks implied by the piano is suddenly the pure sound of the clarinet, a mellow undertone from the bassoon, a merry or solemn rise from the strings—or a heart thumping beat from the drums. They round out the sound of voices, they complement and they contrast. It is a sound that has become whole. It works! Our scant audience of friends (we see a few singers there who have taken a sabbatical this spring—and our good friend Betty Kelly, who says the dress rehearsal is a special time which she loves to watch) seem to like it. The soloists have figured out how to get up to the front without banging into the bassoon, they sing beautifully, we come in when we're supposed to—that's how it works. I guess we're ready.
Yes, we're ready! Let the fun begin!
– Martha Magane
In Rehearsal Blog – The Fall 2018 Season
Our Carpool
In the summer of 2016, I attended a performance of music and readings that focused on the sea at the National Seashore's Salt Pond Center. It was a concert by the Chamber Singers of the Outer Cape Chorale. I had recently retired after teaching at Oberlin College in Ohio after 35 years. I was now a year-round resident of Wellfleet, where long ago I had attended summer camp, starting at age five. After the concert, I was reading through the concert program and came upon a note from the musical director, Allison Beavan, who invited people to join OCC.
I had been in chorus in high school and then again on and off when I lived in Ohio. Since Oberlin included a music conservatory, local choruses abounded; the highly competitive conservatory choir, the early music chorus, and small ensembles formed to sing commissioned pieces. They were filled with students who were majoring in music, so membership constantly changed as students entered, sang for a few years, and then graduated. Instead, I joined Musical Union, a long-standing choral group in the small town of Oberlin, Ohio, in which more than half the chorus were townspeople. We sang the Brahms Requiem, Stravinsky's Symphony of Psalms, Handel's Creation, the Mozart Requiem, and more. I met more people in that chorus—of all ages, occupations, and interests—than I did in any other activity.
When I read Allison's invitation, I realized that I missed singing. On the other hand, I had not sung for more than a decade and, truth be told, I never had really learned to read music very well. Besides, the idea of auditioning was alarming. And then, I couldn't drive at night anymore because my eyes were not what they used to be. I was about to dismiss the idea but, as I read further, I saw that in her invitation, she had anticipated and refuted all my possible reasons for not joining OCC. She stated that one didn't have to audition or know how to read music. Moreover, she specifically mentioned that many members of the choral carpooled to rehearsal.
I attended the first rehearsal in September, when it stayed light long enough for me not to worry about night driving. Then one day in Wellfleet, I happened to run into a woman who had performed with the Chamber Singers in the summer. I recognized her from the concert because she had been wearing beautiful earrings then and was again wearing a different pair of beautiful earrings. I knew her name was Sue Peters, because her picture appeared in the concert program in an ad from a real estate office. I told Sue that I lived in Wellfleet and was hoping to carpool. She mentioned some singers that lived in Wellfleet. When I asked several of them if they had room for me, most had full cars, came straight from work, or went in others' cars.
I asked Sue about her carpool, which included Suzanne Doherty and Mary Niccolini from Eastham (see photo). She said they had room for one more rider, so I joined them. Who knew then that, by joining the carpool, I would learn where the nearest trustworthy dry cleaner was, discover the Brazilian Grill in Hyannis (Sue's suggestion) when we went out for our-end-of-the-year lunch, find someone who could repair my favorite earrings, discover good crackers to serve to visiting friends who adhered to a gluten-free diet (Suzzane recommended "Mary's Gone Crackers"), and learn a great recipe for gazpacho with watermelon (omitting heavily acid tomato juice) from Mary?. And, the most momentous achievement of my carpool in my first year in OCC was still to come.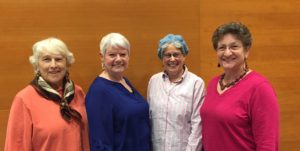 By now, after more than 2 years in the chorale, I know that at the beginning of every season, when we first get our new music for the next concert, I'll feel overwhelmed. But I didn't know it during my first season in the chorale. There were so many new pieces to learn and it looked like everyone around me just picked up the notes, rhythm, and dynamics right away. I listened to the Alto CD regularly, but I had been a soprano earlier and found it hard to follow the alto parts. Finally, I decided that I was not a very good singer and should not remain in the chorale. When I announced this to my carpool, each person told me that she felt the same way when she first joined the chorale but had ended up returning season after season. They urged me to hang in there until the December concert and then see if I wanted to stay or not. Sure enough, we spent the last few weeks before the concert polishing our pieces. By the time we performed, I knew most of the works by heart and the pleasure of performing them with 150 fellow singers convinced me that the chorus and my carpool were crucial to living a fulfilling life!
– Paula Richman