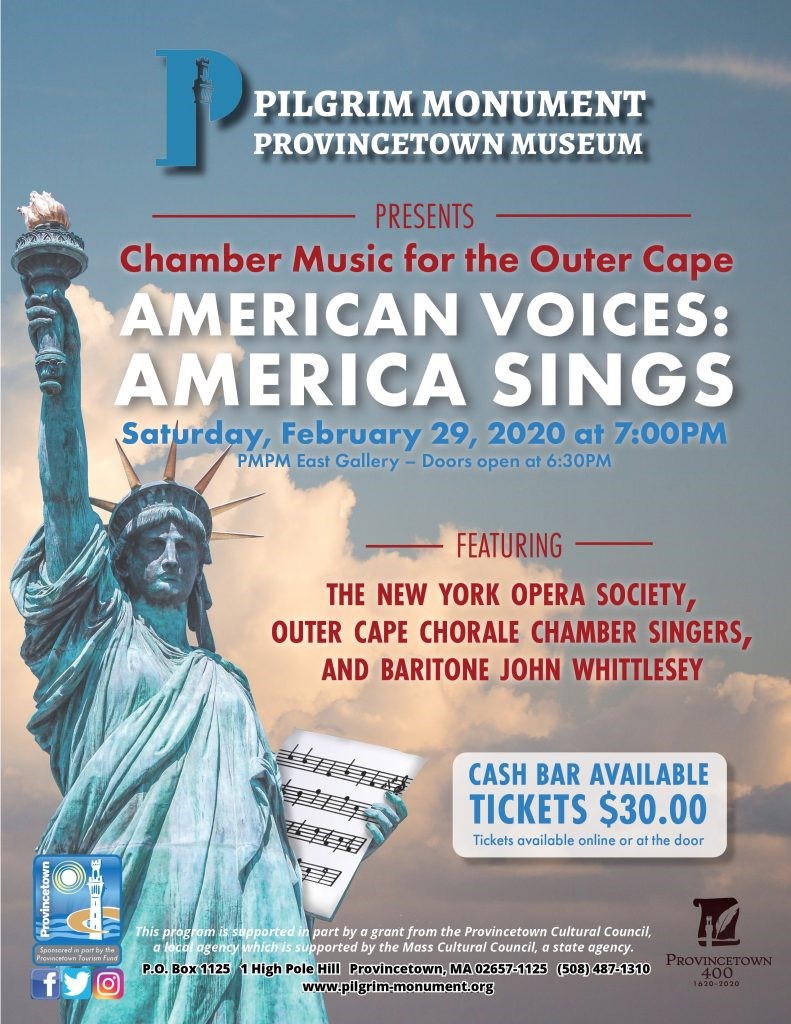 Special Event!
The Chamber Singers appear with Chamber Music for the Outer Cape on Saturday, February 29, 2020
The Outer Cape Chorale Chamber Singers will appear as part of the Chamber Music for the Outer Cape concert "American Voices: America Sings" on Saturday, February 29, 2020 at 7:00 PM at Pilgrim Monument Provincetown Museum. Doors open at 6:30 PM.  Tickets are $30 general admission and can be purchased here.
Chamber Music for the Outer Cape, an education program of Pilgrim Monument and Provincetown Museum, presents America Sings, a concert celebrating the wide range of American music composed for voices in the chamber music tradition. From the first days of the Pilgrim's arrival, singing has been a strong avenue for Americans to express their love of freedom, religion and community.
The concert will begin with Outer Cape Chorale Chamber Singers presenting Magnificat by Charles Theodore Pachelbel, the son of the famous Johann Pachelbel. Charles moved to the colonies in the 1730s establishing himself first in Boston living the rest of his life in the colonies. For the purposes of this concert, his music bridges American music with its European roots.
Juxtaposed against this early masterpiece is the twenty first century song cycle, A Question of Light by Jake Heggie. Each song is a reflection on a work of art from the Dallas Museum. Copies of the artwork will be displayed during the performance to give the audience a chance to see the art while listening to the poetry and music.
Following this journey from the eighteenth to the twenty-first century America is a second half of the Great American Songbook.  These songs are considered the "classical" music of our country composed by names that every American knows – George Gershwin, Cole Porter, Harold Arlen, Rogers, Leonard Bernstein and more! Singing this wonderful repertoire are three special singers: soprano Alisa Jordheim from the New York Opera Society; baritone John Whittlesey, founder and artistic director of Intermezzo: The New England Chamber Opera Series; and Halcyone Hurst, Provincetown native treading the boards in New York City and London.
The program promises to be entertaining and a true educational affair spanning four centuries of American song. Concert date and venue is Saturday, February 29 at 7:00pm at the Pilgrim Monument's East Gallery.  Doors open at 6:30pm.  Tickets are $30 general admission.
Congratulations to the Chamber Singers !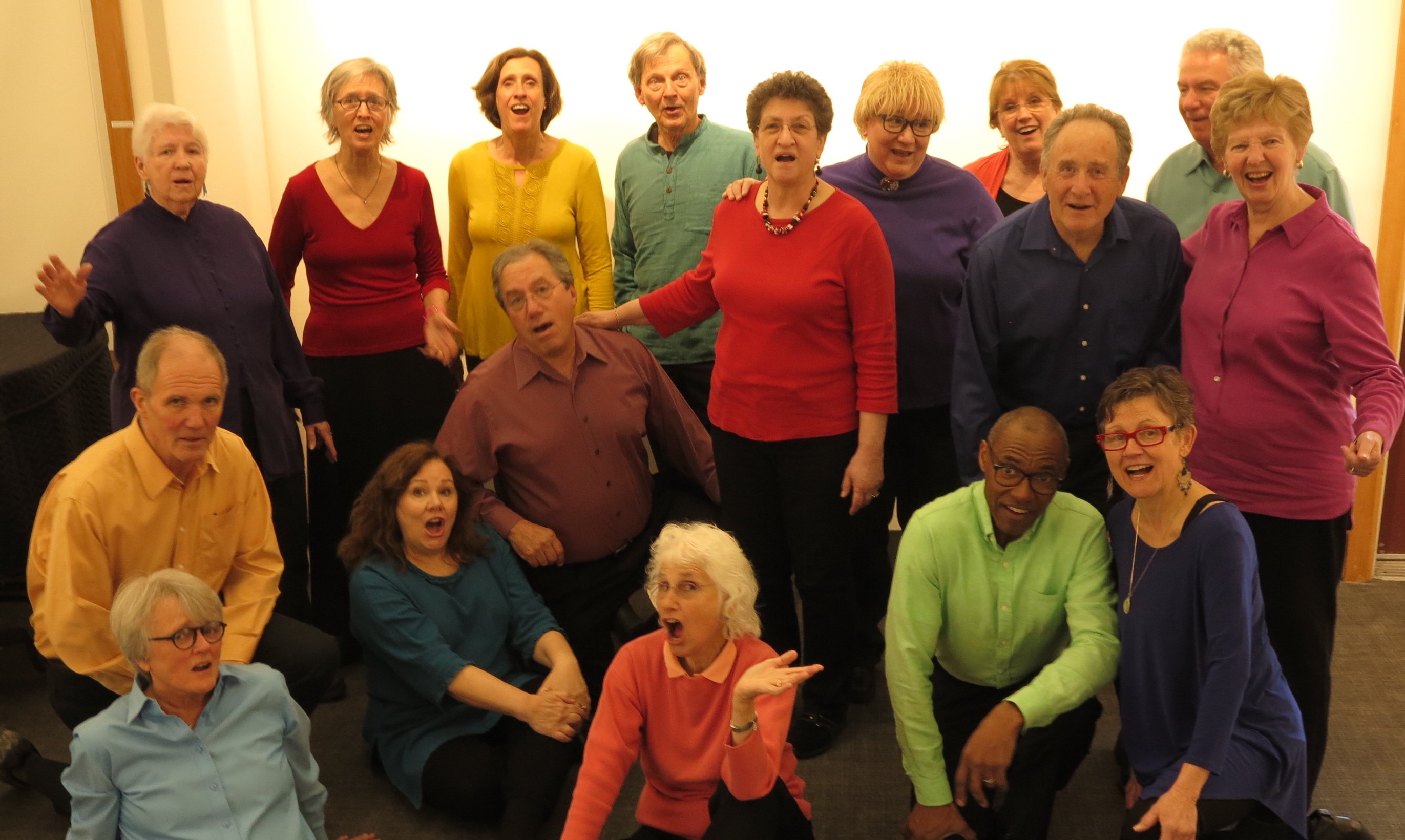 Congratulations to the Chamber Singers for an exhilarating 2019 concert season!  Large and enthusiastic audiences attended all seven concert venues to hear the delightful program, "Moon and Stars".
Our summer 2020 concert is titled "Places" and features songs from the American songbook.  Check back in spring 2020 for concert dates and venues.
The Outer Cape Chorale Chamber Singers under the direction of Allison Beavan, is an a capella ensemble of approximately 20 voices.  This enthusiastic, fun-loving group performs a series of concerts across the outer Cape each summer, and often appears with the full Chorale in their May and December concerts.
Concerts are free and open to all.  (We accept goodwill donations to help defray our expenses.)

Thank you to the Chamber Singers 2019 Summer Season Sponsors!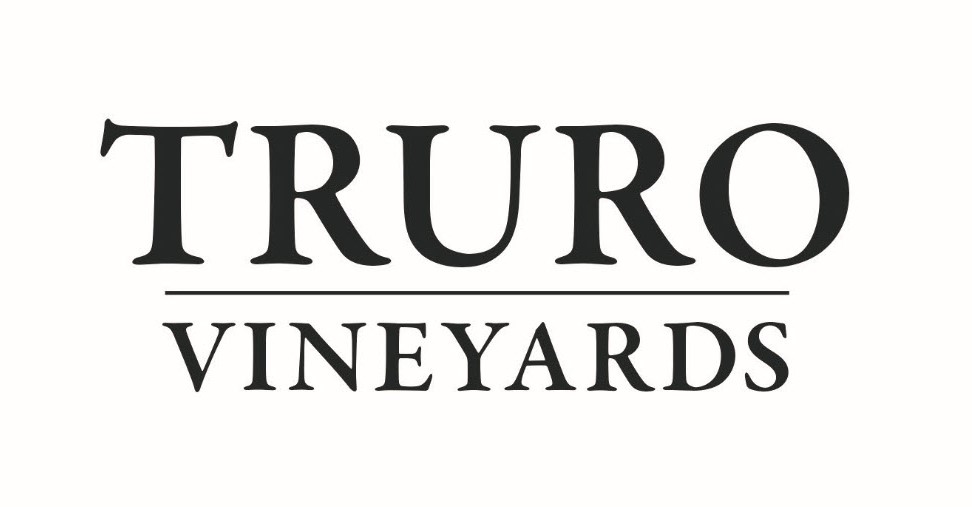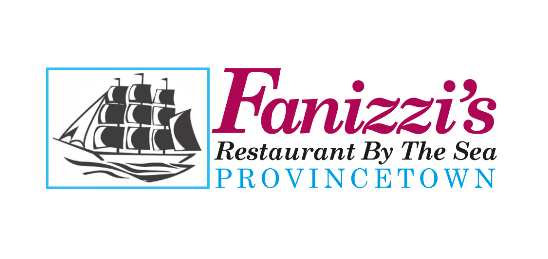 Curtis Balom
Sally Brotman
Bill Carlson
Janice Gray
Martha Magane
Sue Peters
Tim Welles
Russ Braun
Peter Burnetter
Tanya Delorme
Marty Hassell
Patricia McDonald
Diane Brown Rose
Carl Brotman
Maura Burns
Tim Dickey
Dianne Kopser
Joyce Messinger
Susan Todd
Audiences love the Chamber Singers!
Here's what they said:
My friends and I loved the concert at Salt Pond. Terrific program with lots of emotional variety. You all do amazing work!
The concert was perfect – a musical feast – a perfectly balanced menu of classical pop, liturgical classical and world music, light hearted and deeply moving, joyful peals and prayerful urgencies in the name of the world's children. And shouldn't I say that the singers were brilliant, their voices perfectly balanced, in a blessed harmony.  I left more than satisfied. I was blown away. Bravo to the Chamber Singers.
Last night was a highlight of our Museums's season.  The music was beautiful and we hit a record attendance for a Wednesday evening!
I had to speak up that yesterday's performance in Chapel in the Pines was amazing! The chamber singers were terrific.
It was fabulous. I heard every "k"…the diction was remarkable…the sound absolutely gorgeous. I cannot say enough. I was SO proud of the Chamber Singers and YOU.
I sat watching Allison direct and thought "I'd LOVE to sing under her baton!"
I need to thank you for a wonderful evening.  You always seem to outdo yourself every year.  Everyone was complimenting the program.
What a wonderful, wonderful concert. THANK YOU.
the OCC Chamber Singers were MAGNIFICENT
"Spring Song" was amazing on so many levels!  The history behind it, the serendipity…  "The Argument" is still tickling my mind!  So much talent.  The personal disclosures were a delight!  Thank you for a wonderful hour!
(Nauset Newcomers)  …the performance was outstanding! Rave reviews.  And, I heard folks talking about wanting to come to other performances.  We were thrilled to have you!