Chamber Singers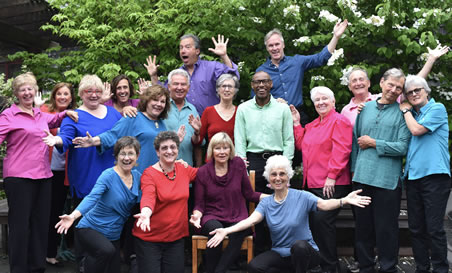 The Outer Cape Chorale Chamber Singers, also under the direction of Allison Beavan, is an auditioned acapella ensemble of approximately 20 voices. They sing a wide variety of repertoire from Bach to Jazz. This talented, enthusiastic group provides a series of summer concerts and is often featured in the Outer Cape Chorale concerts.
This acapella ensemble sings a variety of musical styles that will please every audience member. Concerts are free and open to all. (We accept goodwill donations to help defray our expenses.)
Congratulations to the Chamber Singers for a wonderful 2017 concert season!
June 18 at 5:00
Chapel in the Pines, 220 Samoset Rd, Eastham
June 25 at 5:00
Unitarian Universalist Meeting House, 236 Commercial St, Provincetown
July 7 at 6:30
Private Event, Orleans
July 12 at 7:00
Highland Museum, Highland Light Road, North Truro
July 16 at 5:00
The Church of St. Mary of the Harbor, 517 Commercial St, Provincetown
July 23 at 5:00
First Congregational Parish, 3 1st Parish Ln, Truro
July 27 at 7:00
Cape Cod National Seashore Visitors Center, 50 Nauset Rd, Eastham
October 21 at 7:00
Community Peace Concert, Nauset Middle School Orleans
The concert was perfect – a musical feast – a perfectly balanced menu of classical pop, liturgical classical and world music, light hearted and deeply moving, joyful peals and prayerful urgencies in the name of the world's children. And shouldn't I say that the singers were brilliant, their voices perfectly balanced, in a blessed harmony. I left more than satisfied. I was blown away. Bravo to the Chamber Singers.
I had to speak up that yesterday's performance in Chapel in the Pines was amazing! The chamber singers were terrific.
It was fabulous. I heard every "k"…the diction was remarkable…the sound absolutely gorgeous. I cannot say enough. I was SO proud of the Chamber Singers and YOU.
What a wonderful, wonderful concert. THANK YOU.
(Nauset Newcomers, April 12) …the performance was outstanding! Rave reviews. And, I heard folks talking about wanting to come to other performances. We were thrilled to have you!
Curtis Balom
Sally Brotman
Tanya Delorme
Marty Hassell
Martha Magane
Diane Brown Rose
Russ Braun
Peter Burnetter
Tim Dickey
Linnett Hultin
Joyce Messinger
Susan Todd
Carl Brotman
Bill Carlson
Janice Gray
Dianne Kopser
Sue Peters