Dear friends,
The full Chorale of over 100 voices has not yet been able to come together for rehearsals since March 2020.  However, the Chamber Singers, our 20-voice ensemble, has been rehearsing together this fall with social distancing and masking.
And so, with great pleasure, the Outer Cape Chorale presents:
The Chamber Singers and orchestra, performing
"Merrily Mozart"
on Friday, December 10th 7PM
and Saturday, December 11th at 5PM
at Provincetown Town Hall
The concert features Mozart's Coronation Mass K317, along with a selection of Holiday favorites.
All performers are fully vaccinated.
Audience members are required to wear face masks during the performance and adult vaccination is required.
And – for the first time! – OCC/The Chamber Singers will livestream our Saturday Dec 11th concert on Facebook.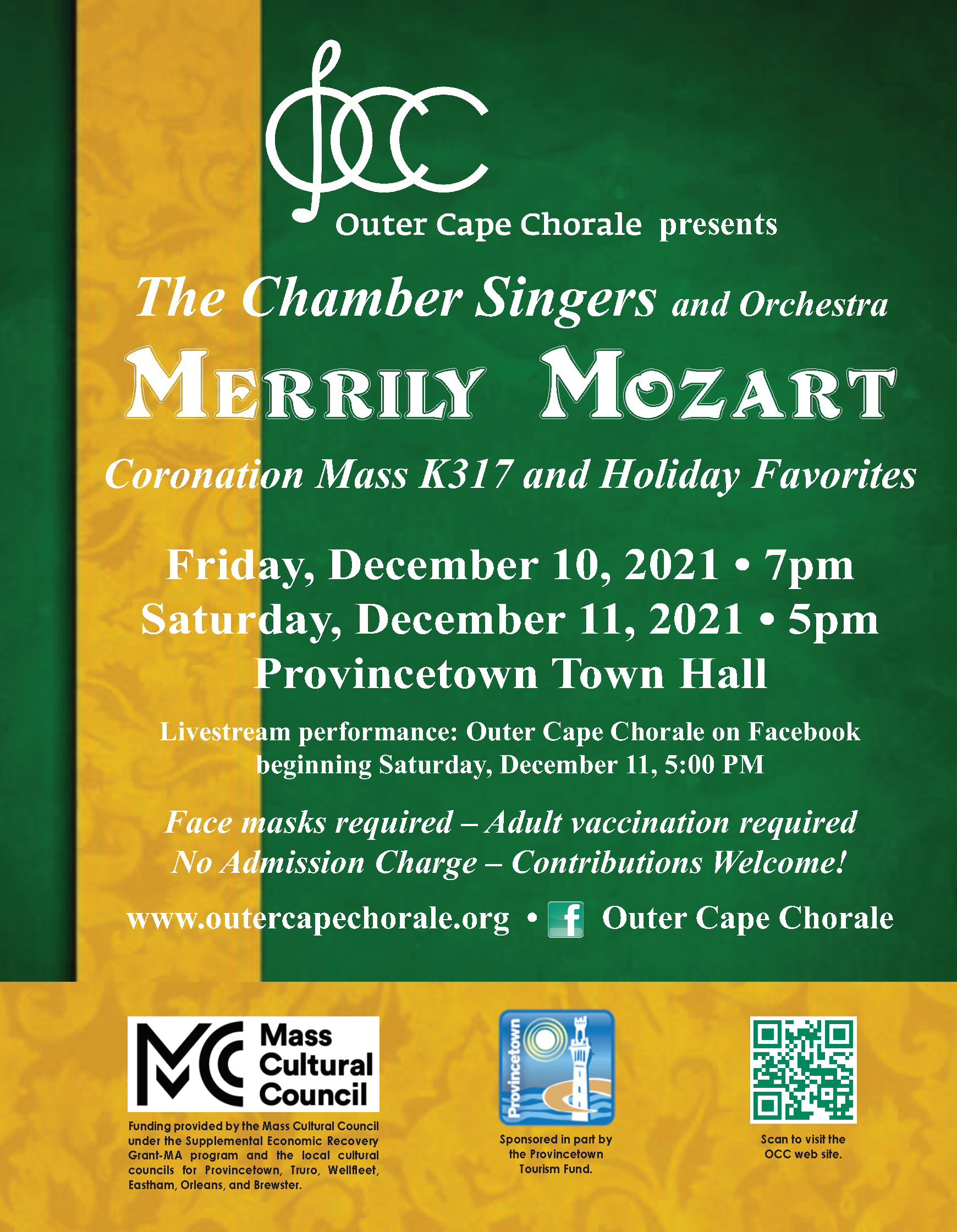 The Outer Cape Chorale is currently on hiatus during the global pandemic
It hasn't yet been possible to bring together a group of singers as large as OCC's 100+ voices for ongoing rehearsals.  In the meantime, we've continued programs for our singers, such as our 10-session Zoom rehearsals in Spring 2021 to learn the full Rutter Magnificat and our September 2021 in-person sing-through of the piece (outdoors and masked).
We're continuing to explore ways to restart rehearsals for the full Chorale for the Spring 2022 season.  Look for more information in early 2022!
Thank you for your encouragement and support during these times!
The Chamber Singers

The Chamber Singers are currently rehearsing for our "Merrily Mozart" concert at Provincetown Town Hall on December 10th and 11th.
And initial planning is underway for The Chamber Singers 2022 concert events.  Check back in early Spring 2022 for more information.