The Outer Cape Chorale and Chamber Singers Spring 2022 season
The Outer Cape Chorale returns to the concert stage!
A Musical Mosaic
Three choirs!  Pop, Folk, and Classical selections!
Friday May 20th at 7PM * Provincetown Town Hall
Saturday May 21st at 5PM * Provincetown Town Hall
Sunday May 22nd at 3PM * Nauset Middle School, Orleans

Allison Beavan, Artistic Director, with Arthur McManus on piano
 Free admission!  Goodwill donations accepted
Masks required
Saturday's concert will also be livestreamed on Facebook Live!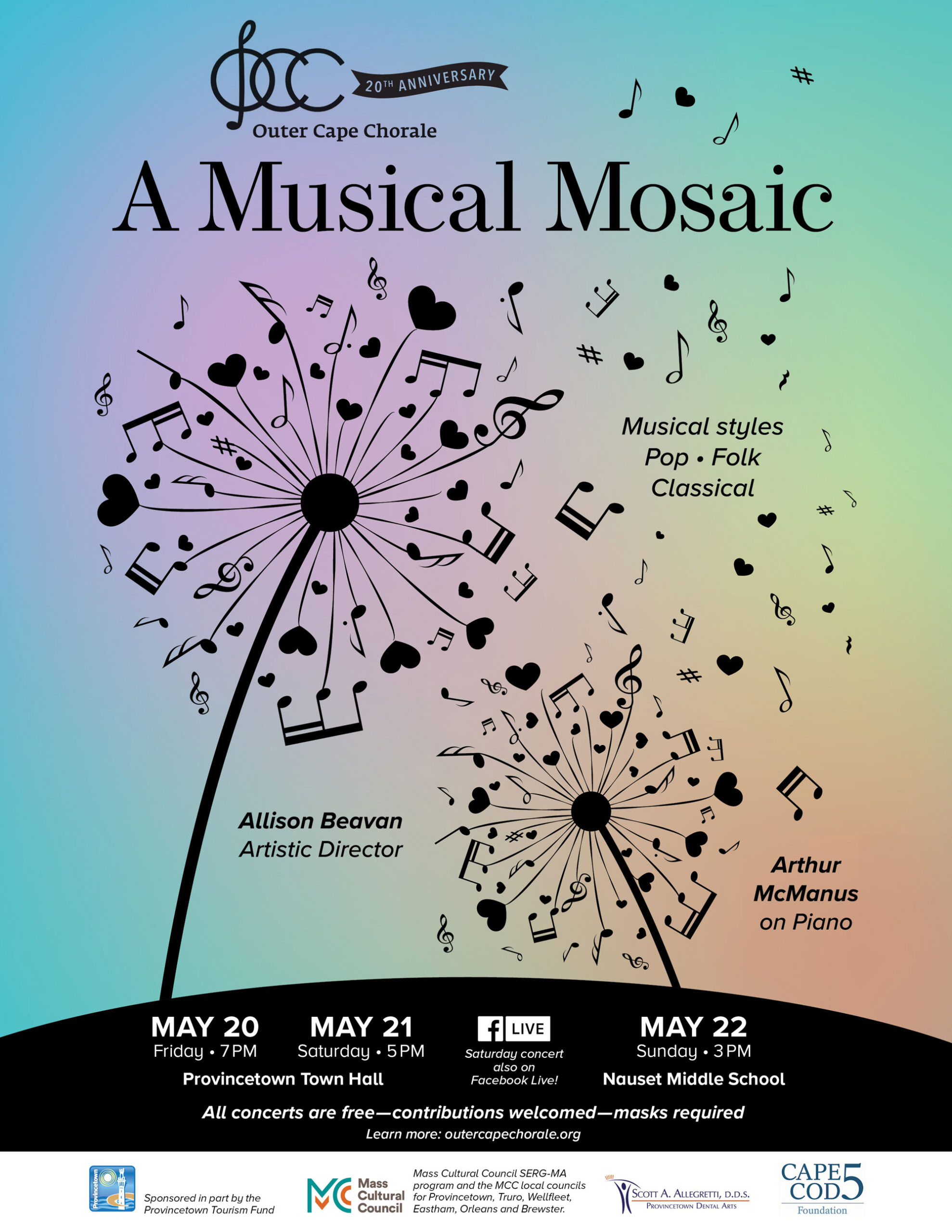 The Outer Cape Chorale is back rehearsing together – but with a twist!
For our Spring 2022 season, we have formed two separate groups – a Soprano/Alto choir and a Tenor/Bass choir.
The Chamber Singers will join these two choirs for our exciting May 2022 return to the concert stage with a delightful program of diverse and uplifting music.
Organizing our singers this way facilitated the Chorale's return to our rehearsal venue – AND it gives us an opportunity to present unique repertoire that is arranged for two vocal parts.
The Chamber Singers Summer 2022 Concert Series
The Chamber Singers are hard at work preparing for our June 2022 concert series.  The program includes a fun mix of traditional, folk, and other a capella works that we're sure you will enjoy.
Performances will take place in some of our favorite local venues throughout the month of June.  Check the schedule below for a concert near you!
Saturday, June 4th at 5:00 PM – Wellfleet Library
Sunday, June 5th at 5:00 PM – St Mary of the Harbor, Provincetown
Sunday, June 12th at 4:00 PM – Chapel in the Pines, Eastham
Tuesday, June 21st at 7:00 PM – Chapel of St James the Fisherman, Wellfleet
Tuesday, June 28th at 7:00 PM – National Seashore Visitors Center, Eastham
Wednesday, June 29th at 6:30 PM – Highland House Museum, Truro
And mark your calendars for the Outer Cape Chorale's December 2022 concerts!
Friday, December 9th at 7PM in Provincetown Town Hall
Saturday, December 10th at 5PM in Provincetown Town Hall
Sunday, December 11th at 3PM at Nauset Middle School in Orleans