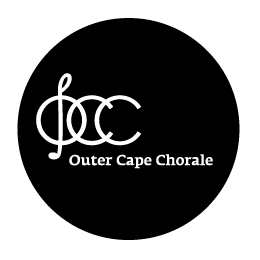 March 14, 2020
Dear Friends and Supporters of the Outer Cape Chorale,
With great sadness, we must inform you that the Outer Cape Chorale has cancelled our concerts scheduled for May 15, 16, and 17, 2020, out of precautions related to COVID-19.  Our concerts are very large events, bringing together anywhere from 600 to 800 people at each performance.
It might seem a bit early for this decision about concerts scheduled for May.  However, the Chorale's rehearsals are gatherings of between 100 and 140 singers, where we would have been in close proximity for two hours each week.
Our responsibility to our singers, their families, and to the community-at-large was clear – to cancel our rehearsals, which we did this past week.  Without our rehearsals, we would be unable to prepare for the May concerts, even if the need for social distancing has abated by then.
Please note that we have kept the Chamber Singers eight July concerts on the calendar at this time.  We'll be monitoring events and will make any needed decisions later in the spring.
Music is our passion and joy – it is our privilege to share inspiring choral music with our audiences.  All of our singers are extremely disappointed that we will not be able to perform for you in May.  But you can be sure that we will once again lift our voices in harmony, when this crisis has passed.  In the meantime, please stay informed and well!
The Outer Cape Chorale is so very grateful for the support that you show us, season after season.  We hope that you will stick with us under these unfortunate circumstances and that you will join us again at our December 2020 concert.  We can only guess that our collective joy will be magnified when we are once again singing for you in concert.
With our gratitude,
The Outer Cape Chorale Board of Trustees and Allison Beavan, Artistic Director