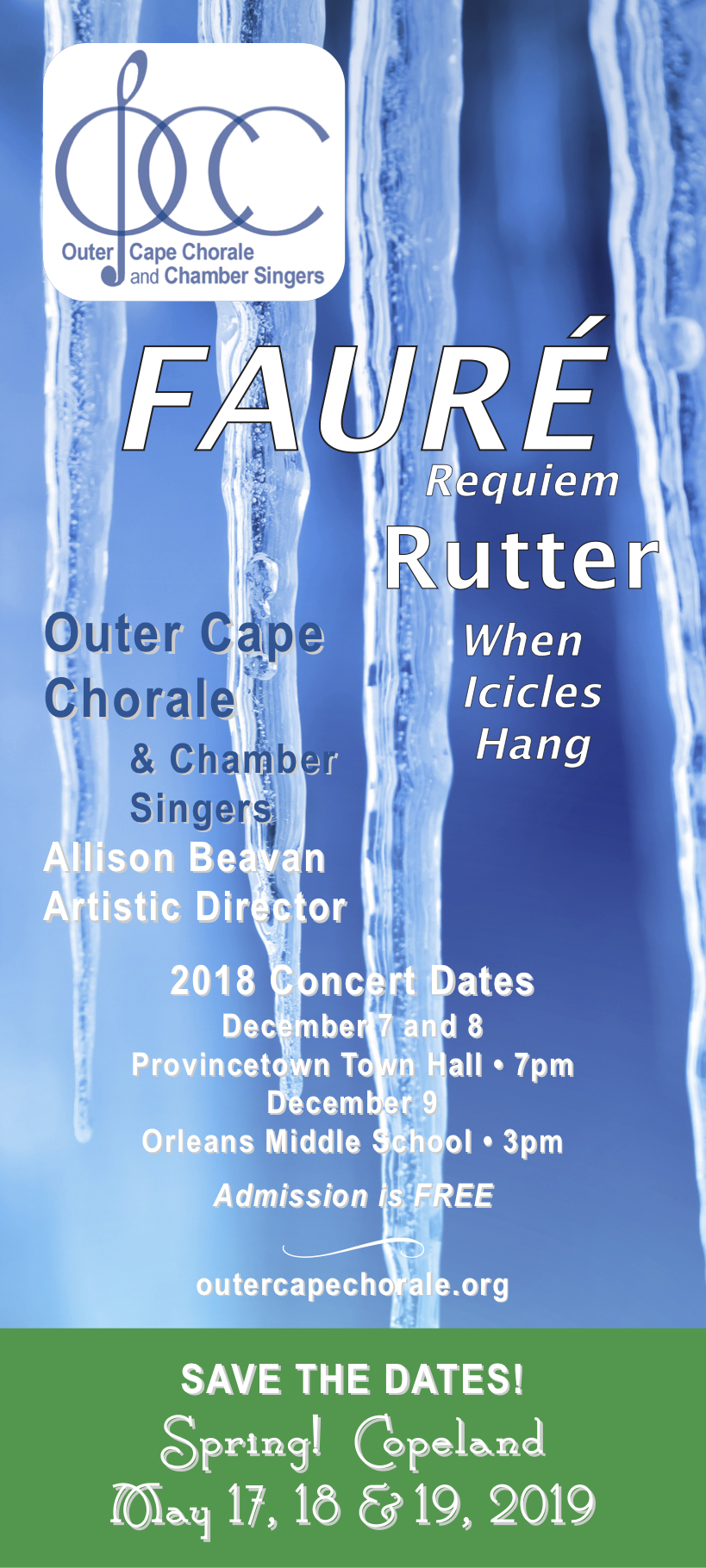 The Outer Cape Chorale and Chamber Singers present
Fauré Requiem
Friday December 7th and
Saturday December 8th at 7:00 PM
Provincetown Town Hall
Sunday December 9th at 3:00 PM
Nauset Regional Middle School, Orleans
Admission is free – donations gratefully accepted
Come and be awed by the spectacular 35-minute long Fauré Requiem – a perennial favorite of the choral repertoire known and loved throughout the world. Fauré's lush beautiful melodies are at once haunting and soothing and not easily forgotten.
Donal Henahan wrote in the New York Times:
Gabriel Faure's Requiem is a comforting contemplation on the sweetness of death, a gentlemanly view of a hereafter in which a loud trump on the last day might be an intrusion on the peace calling for intervention by a kindly gendarme. Unlike the more vivid funerary masses of Verdi, Berlioz and Mozart, Faure's disdains to summon up distasteful images of apocalyptic violence or hellish horrors. Rather, its messages of death and resurrection are delivered for the most part in a solacing, velvety hush.
Michael Lewanski, conductor at DePaul University School of Music, wrote:
Gabriel Fauré's Requiem is one of the more unusual works in the genre. Not written for any reason in particular ("pleasure, if I may call it that," said the composer), it doesn't stand as a memorial to a person or event. (Fauré's mother actually died during its composition, in 1887, so it cannot have been initially conceived of in her memory.) The circumstances are hardly the most unique thing about it, though. Unlike nearly all other works in the genre, it contains none of the drama, anxiety, or fraught emotions one tends to associate with human thinking about death.
Gabriel Faure´ himself penned: "It has been said that my Requiem does not express the fear of death and someone has called it a lullaby of death. But it is thus that I see death: as a happy deliverance, an aspiration towards happiness above, rather than as a painful experience. The music of Gounod has been criticised for its over-inclination towards human tenderness. But his nature predisposed him to feel this way: religious emotion took this form inside him. Is it not necessary to accept the artist's nature? As to my Requiem, perhaps I have also instinctively sought to escape from what is thought right and proper, after all the years of accompanying burial services on the organ! I know it all by heart. I wanted to write something different."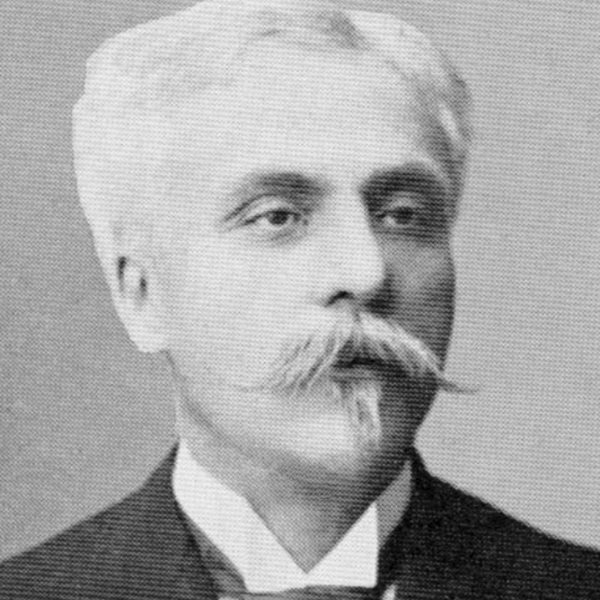 The Chorale will also present John Rutter's When Icicles Hang! Based on Shakespearean texts, the cycle is a delightful set of heart-warming secular carols of winter that will lead us into the holiday season!
John Rutter writes:
"When Icicles Hang will forever be associated in my mind with the much-missed figure of Russell Burgess, whose Wandsworth School Boys' Choir was such a colourful and inspiring part of the musical scene in the 1960s and 70s. Russell asked me to write a seasonal but not specifically Christmas work for a December concert given by the choir in London's Queen Elizabeth Hall in 1973, and, in writing it, I think I unconsciously reflected some of the contradictory facets of Russell's endearing personality: his rumbustiousness in Good ale and Hay, ay, his gentleness in Blow, blow, thou winter wind, perhaps also something of his underlying melancholy (so often to be found in great men of action) in Winter wakeneth all my care. We all lamented his untimely passing at the age of only 48, but his work lives on in the gift of singing he gave to so many young people."
© Collegium Records
When Icicles Hang – John Rutter (1945 – )
Icicles
Winter Nights
Good Ale
Blow, Blow, Thou Winter Wind
Hay, ay