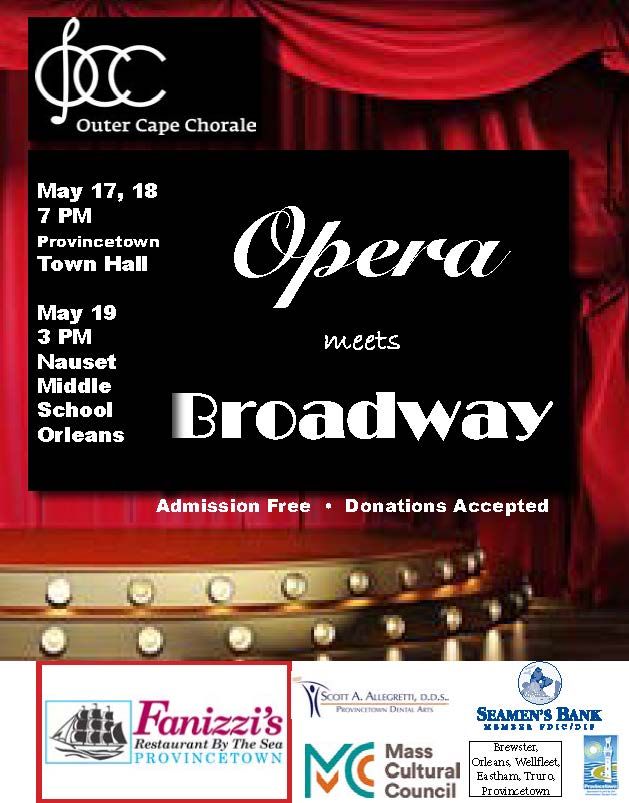 The Outer Cape Chorale and Chamber Singers present
Opera meets Broadway!
Friday May 17th and
Saturday May 18th at 7:00 PM
Provincetown Town Hall
Sunday May 19th at 3:00 PM
Nauset Regional Middle School, Orleans
Admission is free – donations gratefully accepted
Opera is an art form that either people seem to love or really dislike. What is interesting is that when asked why someone does not care for opera, the typical response is that they do not know why! When pressed further, many admit they have never personally been to an opera! What a shame! If you fall into this category, here is your chance to experience 4 familiar opera choruses firsthand. We know that you will recognize these pieces and hopefully come to love them as well! The joy of experiencing these pieces live with over 100 voices and full chamber orchestra promises to be exciting!

Broadway happens to be what some people would consider a more accessible form of music-within-a-play. Perhaps that is how you feel – regardless, come and enjoy! Sing along! And if you've not seen these Broadway shows live, you will be able to experience the Broadway sound up close and personal. Repertoire selections include oldies and goodies as well as some newer shows.
What a treat! A taste of familiar opera pieces and some rousing Broadway choruses to boot – passion and fun abound! The Outer Cape Chorale – on stage!