I miss seeing everyone!  I miss the hustle and bustle on Thursdays between 6:00 and 6:30 – setting up chairs, getting everyone signed in, sharing hellos and ideas!  And, of course, the "Oooooohhhh" coming through the speakers as Allison calls us to order and begins our warm up.  I'm sure many of you do, too.
It's not the same by any means – BUT – I have really loved seeing some of my fellow OCC'ers on Allison's Zoom sessions the last two weeks!  If you haven't joined one yet, you might want to give it a try.
I'm sure that many of you have already become quite savvy with collaboration and meeting tools like Zoom, Skype, FaceTime and others.  Things like Zoom instruction, Zoom visits with friends, and Zoom cocktail parties are becoming commonplace.  I've been to several myself.  If you haven't tried it yet, there's no need to feel intimidated – these tools are used by millions.  You can do it!
In her first session last Thursday, Allison walked us through some foundational music theory concepts.  Although I had basic musical training – long ago! – it was good to refresh them in my mind.  The session used materials on musictheory.net and covered:
– The staff, clefs, and ledger lines
– Note duration
– Rests and duration
– Measures and time signature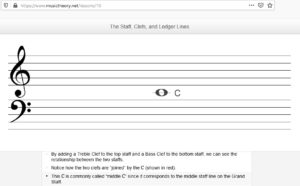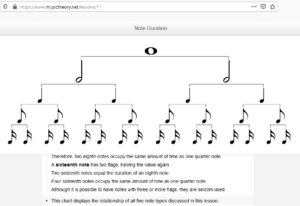 Then, Allison led us through a few Solfege exercises to apply these concepts.  The time went fast, but I left feeling enthused and engaged.
The second session focused on vocal technique, highlighting the use of Vibrato versus Straight Tone.  After a vocal warm up (of course, we couldn't hear one another), Allison used three YouTube videos from an a cappella group called Voces8, who use Straight Tone extensively.  While it turns out that Zoom doesn't do all that well with computer audio, I got the gist of the technique.  The next day, I found these YouTube videos and watched them again, at home.  (Well, I guess everything is at home nowadays!)  Personally, I learned that, although I mix Straight Tone with vibrato whenever I sing standards or jazz, the right way to use Straight Tone is "on the breath" rather than clenching the muscles surrounding your vocal folds – which can restrict the sound and tire you out!
Here are the Voces8 links, if you'd like to listen to them yourself:
Earth Song (you'll recognize this – we sang it a few season ago!)
https://www.youtube.com/watch?v=-qZ4u_2ZAlc
Si Le Le (an interactive approach, sing along!)
https://www.youtube.com/watch?v=M9xDt4oduYE
The Sound of Silence (as you've never heard it before)
https://www.youtube.com/watch?v=KXJNLb71VH4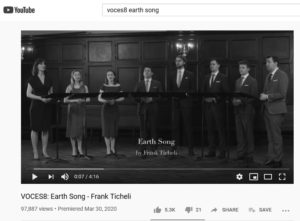 Until we gather again to joyously sing, I think I will allocate some of my time and energy towards musical learning.  And while I'm stuck at home, I'll be Zooming, Skyping, Facetiming, emailing, texting, messaging, and – yes – actually talking on the phone!
By Jeff Tagen