We asked the OCC singers "What is the most memorable musical event you have been to or participated in?"  What a variety of wonderful experiences!  Here they are…
Karen Strauss
The top one has to be a New Year's Eve Peace Concert at St. John the Divine in NYC many (many) decades ago in the early 1980s. Odetta sang and she was glorious, filled up that beautiful space, and everybody silent when she finished, too awed to break the mood. And then Leonard Bernstein stepped up to speak, and I can't remember what he said, because he suddenly dropped to the ground and did a break dance.
Robin Powell Higgins
When in 8th grade my daughter was a huge Les Mis fan. We took a school trip to London and I managed to snag tix to the London performance, starring Colm Wilkinson. Halfway thru the show I looked over at her and she's in tears. I asked what was wrong and she replied "I never ever thought I would get to see this. Thank you, Mom." Score one for mom…
Maureen Osborne
When Topper and I were in grad school together in St. Louis, he invited me to come visit him in NYC where he was visiting his parents over the Christmas break. I flew in on New Years Eve in 1977, and he was courting me, so planned a fabulous evening which included a kickass concert at the Palladium with Levon Helm and the RCO All Stars, followed by a night of dancing at a Tribeca discotheque called "Ones." I think I fell in love with him that night.
Kathleen Henry
We've been invited to share about a musical experience that particularly moved us. My wife had business in London and I got to go along! I spent one day on my own as she was working and wandered through the Portrait museum…then, I happened upon a church and went in without realizing what it was. It was St Martin-in-the- Fields. There was a concert going on and I was transported. It was a US choir singing, the William Jewell College Choir from Missouri. The piece I loved the most was "Jesus Christ the Apple Tree." I saved the program and have framed it. I see it every day. I wrote on it: The most exquisite hour of my life!
Elizabeth Dickson
When my youngest son turned 21 I took him to The Boston Opera House to see Phantom of the Opera. I don't know which I loved more the Phantom or watching my sons face ❤️
Dianne Kopser
I was at the Civic Center in Poughkeepsie for an Air Supply concert. They warmed us up with this solid wall of huge speakers playing Bach's Toccata and Fugue. Shook me to my core. After that, the Air Supply part of the program was kind of…eh.
Nancy Sweeney
Singing at the Kennedy Center in Washington, DC with the Wakefield Choral Society!
Mary Avellar
One musical memory would be playing Dame Brinker in Hans Brinker or The Silver Skates. And the composer/writer was in the audience one evening. Meeting her was a treat.
Martha Magane
One musical event I participated in and will never forget was when our high school choir performed Dave Brubeck's "Sermon on the Mount" with Dave Brubeck himself at the piano. There's a wonderful jazz interlude in the piece which really set my heart racing. We had memorized the music, and I remember it to this day, nearly fifty years later.
Judy Pesce
Two years ago our son treated us to a special concert. We saw John Prine at Wolftrap in Va. Such a wonderful songwriter.
We really enjoyed it. So sad that he has passed. He will be missed.
Jeff Tagen
I've been trying to choose for three days! I realized that this is actually TWO questions. I'll post about the most memorable musical event I have attended first, and come back to the participated-in part later.
There are several candidates –Madonna's electrifying "Blonde Ambition Tour" at the MCI Center in Washington; Better Midler's soulful "Art Or Bust" concert at Merriweather Post Pavilion in Maryland; Patti Labelle (twice), Natalie Cole (three times), or one of the incredible chanteuses that I heard in supper clubs like Blues Alley in Washington – Carmen McRae, Jennifer Holiday, Barbara Cook, Nancy Wilson, Sarah Vaughn, Toni Tennille (without the Captain!), and the late unforgettable Phyllis Hyman.
But the most memorable was seeing Celine Dion at Lisner Auditorium on the campus of GW University in 1992. She had recently released her second (self-titled) US album. Rick and I adored the first, "Unison", and couldn't wait to see her live. As we saw the crowds walking up to the auditorium, we thought – how do all these people know Celine Dion? You see, we thought that WE had discovered her! Every seat was full. She enthralled us with that amazing voice and her quirkly, accessible personality. We realized then that we had to let go and give her to the world!
We saw her again in concert, many years later, after "Titanic". She had the same amazing talent and presence. While some of her music was over-produced, there was a remarkable acoustic segment of 3 or 4 songs that I will never forget.
Margo McIntyre
I would like to take the Jeff Tagen approach and answer in two different parts. Memorable concerts I've been to include Glenn Campbell at Ravinia (a smaller version of Tanglewood in Highland Park in Illinois) in 1968 or 1969. He was just becoming well known for his individual talent as a singer and guitarist. Amazing performance. Another was Elton John with Billy Joel at the Allstate Arena in Rosemont , Illinois when they played for almost three hours. The best, however , was seeing James Taylor at Wrigley Field two summers in a row, with my favorite lady, my daughter, on two beautiful summer nights and his bringing me back to my wonderful summers on Cape Cod when I was young, hopeful, and free!
Jeff Tagen
I posted yesterday about the most musical memorable event I've attended. Here's the most memorable one I participated in.
I've been fortunate enough, these last few years, to sing in a few different venues. Some have been truly memorable. (And there are a few I'd prefer to forget!) Many of the best have been with OCC, from my first concert (Carmina Burana), to last May's Opera Meets Broadway concert.
But in late summer 2016, an opportunity came up that both excited and terrified me. As part of the Art House concert series, Patti LuPone would be performing in Provincetown Town Hall on Labor Day weekend. Her manager was assembling a 12-member chorus to sing back up during a segment of the concert, and I was one of the singers invited to join.
We would have about a week to learn our parts at home. On the day of the concert, we'd rehearse with the Musical Director, have a brief run-through with Ms. LuPone, and then perform for a sold-out house. Someone said to me, "All that work for free?" (Yes, it was unpaid.) "What do they think, that this is the highlight of your career?" I didn't have to think that over. OF COURSE it would be the highlight of my singing career (if that's what you'd call it). I had to go for it.
John Thomas helped me by running through the four songs, letting me record his piano accompaniment to rehearse with, and giving me some pointers. Two friends (Patrick Riviere and Kenny Lockwood) were also in the chorus, so we practiced together several times that week.
We arrived at Town Hall at 1PM and rehearsed with the Musical Director for about 90 minutes. Then, Ms. LuPone arrived. There were rumors that she was temperamental and hard to work with. But she was actually amazingly nice, funny, and appreciative. The MD told us that we'd be downstairs that evening and someone would get us when it was time to sing. But Patti intervened and asked, "Isn't there a way they can see the concert from backstage?" And so we got to hear everything from the wings that night! (We couldn't see much, but who cared?)
Apparently, she was pleased with the rehearsal, because she then asked us to add one more song for the evening's performance! Well, with only a few hours to go, Kenny and I huddled together to work on our parts over my dining room table.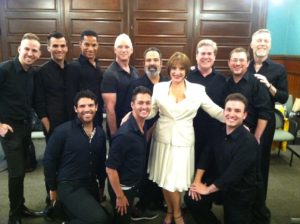 The concert was every bit as exciting (and terrifying) as you would imagine. Afterward, I was exhausted but totally thrilled. And – in addition to giving me the confidence that "I can do it!" – it created a memory that will last forever.
Geraldine Ramer
I was having a hard time with "most" and "memorable" until a headline in a recent Sunday New York Times arts section, "Loud, Louder, Loudest", about the evolution of orchestra volume, made me think that I had been going about it from the wrong perspective. I couldn't help but think of a particular time I went to Symphony Hall in Boston with a dear friend of mine who was a music critic for the Boston Globe. He was always provided with two tickets for concerts and I was often the beneficiary of this largesse. But on this occasion, after the first piece had finished and the audience was applauding, he reached into his inside jacket pocket and took out two earplugs. As he put them in his ears he muttered somewhat regretfully, "they always play this too loud." It was Berlioz' Symphonie Fantastique.
Yes, for me it was a bit startling, and memorable. So it was a simple step going from the startling to the unthinkable. I spent time in Paris in 1985/96 and was fortunate enough to live near enough to the Paris Opera that I could show up early on the Monday morning when half price tickets went on sale. I had already been a couple of times when I showed up for the premiere of a new production. But there were dozens of people streaming down the steps. The Opera had been cancelled. It wasn't until the next morning that I learned from the newspaper what was the cause. The highly regarded architect and designer, Gae Aulenti, who was currently in charge of the design of the Musée d'Orsay, had designed the sets and had them built in her workshop in Milan. When the sets arrived at the Palais Garnier, they would not fit through the stage doors. Which illustrates that a musical event isn't necessarily only about the music.
But then there's the spectacular. I spent a summer in London, the summer that happened to be Queen Elizabeth's Silver Jubilee. I had gone to the National Theatre to see a performance of Shakespeare, not knowing what would be occurring outside when the performance was over. As luck would have it, the exit of the theatre led directly to a prime viewing spot over the Thames. Lavishly decorated barges were slowly making their way down the river and the orchestra on board one of them was proudly playing Handel's Water Music. Fireworks went off between the suites. Memorable?, yes. The Most, still not sure.