Ringers
I joined the OCC in desperation. I was going insane. I had not sung with a group in 6 years, and it was absolutely making me crazy. I am 53 years old and have sung virtually every week of my life since I was about 3… except for the past 6 years. I sang in every church, school and community I have ever been in, except Provincetown. I was a voice major at college, I sang with professional choirs, and I was a soloist at many weddings, funerals and concerts. So I finally broke down and joined this non-auditioned community choir in order to bring back some sanity, and remember how to use my singing voice. I wasn't expecting more than that.
I did expect it would be fun – I mean, the outer Cape is chock-full of interesting people, and the chorale has over 100 of them in one room once a week. I expected laughter and camaraderie. What I did NOT expect was the ringers.
Robert is a ringer. He has a solo in one of the pieces, and it's i
n Italian, and if you close your eyes during his solo you are transported to an opera house in Vienna. I never really spent much time listening to Italian opera, but I swoon to hear this ringer. Why he sings with a non-auditioned group is beyond me, but I suspect it has something to do with the fun. It also might be that we all strive a little more, to keep up with him (or maybe that's just me).
Arthur is also a ringer. He's the accompanist. I had what I thought was the *best* accompanist I'd ever known for my senior recital in colle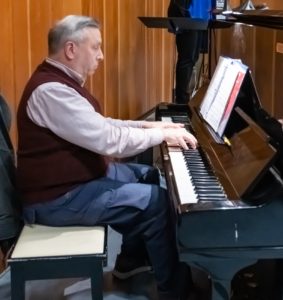 ge – Patricia. She was amazing, playing Cage and Ives and Hayes Biggs, contemporary composers whose scores were all over the place. Then I had what I thought was the *really* best accompanist when I sang with St. Cecilia Chamber Choir in Newcastle – Sean. He still might be, but now he has competition in Arthur – Arthur is attached to the mind of the director by invisible filaments and he knows exactly what to play and when, and he can play string parts on the keyboard better than many string players. I almost wish there were no orchestra to accompany us during the concert, so you could hear how truly remarkable this man is. But then again, I bet the orchestra is full of ringers.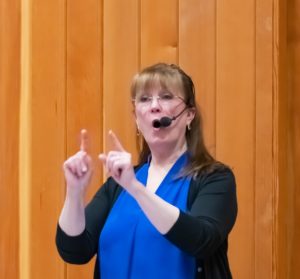 The biggest ringer, though, is Alison. How anyone can take a group this size, full of people who may have never learned to read music, never had a voice lesson, never sung in a foreign language, and over the course of 14 weeks bring them to a sound like this… well, that's why she's the director. Wait 'til the concert, you'll see/hear what I mean.

As for the singers, well, I guess we're all a bunch of ringers, and we are having fun while we do it.
– Laura Ludwig