The Music Man
Let's see… Over there are the Sopranos – those wonderfully talented women who serenade us with soaring notes. And here are the Altos, who form the sweetest harmonies as they sing what is undoubtedly the most difficult part. In the middle are the Tenors, whose glorious tones create melodic counterpart to the Sopranos. And don't forget the Basses towards the back, who provide the resonant foundation upon which all the other parts depend. Yes, that's all 151 of us!
And there is Allison on the podium a

t the front of the room. She leads us through our vocal warm-ups; teaches us tone, vowel sounds, and proper breathing; focuses us on capture the dynamics and expression of the pieces, and helps us create beautiful music. So that's everyone – we are all here!
Wait a minute! There's one more person – a most important and vital part of the Chorale. It's Arthur, our accompanist at rehearsals and the piano/keyboard player at our concerts. At rehearsal, Arthur has to be very versatile. Allison will call on him to play our parts from a passage – sometimes just one section and sometimes multiple sections in different combinations. Or Allison will ask Arthur to play the accompaniment so we can understand the chords, rhythms and progressions of the piece as we integrate our own parts to the whole. There are times when Arthur is pretty much playing all the orchestral parts at once! When he does that, we simply have to applaud. How does he do that?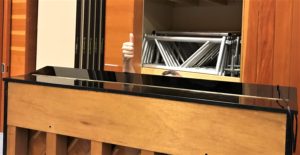 We rely on Arthur so much. And yet, although he is part of everything we do, we rarely see him – he is hidden from view behind the upright piano! Sometimes when we have done something very well, we see his hands come up from behind the piano, clapping for us. Or giving us a thumbs up.
I'd like to give him his due!
Arthur has played piano all of his life. He saw his first opera when he was 10 and soon began playing through opera scores for fun. He also sang in choruses throughout high school and college. Later he had the opportunity to sing with choral guru Robert Shaw in Saratoga and at workshops in Princeton. (Allison also worked with Robert Shaw – one of many things that she and Arthur have in common.)
Arthur McManus has been coming to Cape Cod since the 1970s, when his parents retired here. He moved here full-time in 2000 after a 24-year career as an editor at Reader's Digest magazine. He moved to the Cape with the intention of continuing to edit (for several years Orleans was the home of the well-known column "It Pays To Enrich Your Word Power") and pursuing his passion for surf fishing. All too soon, though, the seals ruined the fishing and he found himself making music more than editing words.
Arthur is currently the Music Director at St. Joan of Arc in Orleans. He has worked with Allison in other settings besides OCC. Arthur often played for Allison's Nauset High School choruses at their concerts, including their performance of the Faure in Manhattan.
I asked Arthur about his experience playing for the Outer Cape Chorale over the last few years. He told me that he loves our challenging repertoire as well as Allison's emphasis on good vocal technique. And from his place at the piano, he enjoys hearing the Chorale develop a fullness of sound, which reminds him of opera.
Of course, there is far more to know about Arthur than can be presented here. But I did want to share some perceptions from the Chorale members themselves – that Arthur is kind, modest, warm, funny, helpful, modest, talented, collaborative, amazing, and – did I say modest?
Although we don't often see your face during rehearsals, Arthur, you are so integral to our experience each week. Your work at the piano is crucial to our learning. Whether you are feeding us our starting notes, helping us go over the tricky parts of a piece, or playing the full instrumentation as we sing – you help us to understand the totality of the music and its expression. We salute you!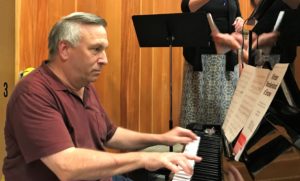 – Jeff Tagen