Our Carpool
In the summer of 2016, I attended a performance of music and readings that focused on the sea at the National Seashore's Salt Pond Center. It was a concert by the Chamber Singers of the Outer Cape Chorale. I had recently retired after teaching at Oberlin College in Ohio after 35 years. I was now a year-round resident of Wellfleet, where long ago I had attended summer camp, starting at age five. After the concert, I was reading through the concert program and came upon a note from the musical director, Allison Beavan, who invited people to join OCC.
I had been in chorus in high school and then again on and off when I lived in Ohio. Since Oberlin included a music conservatory, local choruses abounded; the highly competitive conservatory choir, the early music chorus, and small ensembles formed to sing commissioned pieces. They were filled with students who were majoring in music, so membership constantly changed as students entered, sang for a few years, and then graduated. Instead, I joined Musical Union, a long-standing choral group in the small town of Oberlin, Ohio, in which more than half the chorus were townspeople. We sang the Brahms Requiem, Stravinsky's Symphony of Psalms, Handel's Creation, the Mozart Requiem, and more. I met more people in that chorus—of all ages, occupations, and interests—than I did in any other activity.
When I read Allison's invitation, I realized that I missed singing. On the other hand, I had not sung for more than a decade and, truth be told, I never had really learned to read music very well. Besides, the idea of auditioning was alarming. And then, I couldn't drive at night anymore because my eyes were not what they used to be. I was about to dismiss the idea but, as I read further, I saw that in her invitation, she had anticipated and refuted all my possible reasons for not joining OCC. She stated that one didn't have to audition or know how to read music. Moreover, she specifically mentioned that many members of the choral carpooled to rehearsal.
I attended the first rehearsal in September, when it stayed light long enough for me not to worry about night driving. Then one day in Wellfleet, I happened to run into a woman who had performed with the Chamber Singers in the summer. I recognized her from the concert because she had been wearing beautiful earrings then and was again wearing a different pair of beautiful earrings. I knew her name was Sue Peters, because her picture appeared in the concert program in an ad from a real estate office. I told Sue that I lived in Wellfleet and was hoping to carpool. She mentioned some singers that lived in Wellfleet. When I asked several of them if they had room for me, most had full cars, came straight from work, or went in others' cars.
I asked Sue about her carpool, which included Suzanne Doherty and Mary Niccolini from Eastham (see photo). She said they had room for one more rider, so I joined them. Who knew then that, by joining the carpool, I would learn where the nearest trustworthy dry cleaner was, discover the Brazilian Grill in Hyannis (Sue's suggestion) when we went out for our-end-of-the-year lunch, find someone who could repair my favorite earrings, discover good crackers to serve to visiting friends who adhered to a gluten-free diet (Suzzane recommended "Mary's Gone Crackers"), and learn a great recipe for gazpacho with watermelon (omitting heavily acid tomato juice) from Mary?. And, the most momentous achievement of my carpool in my first year in OCC was still to come.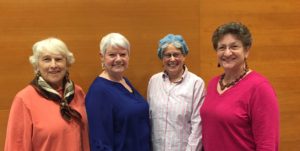 By now, after more than 2 years in the chorale, I know that at the beginning of every season, when we first get our new music for the next concert, I'll feel overwhelmed. But I didn't know it during my first season in the chorale. There were so many new pieces to learn and it looked like everyone around me just picked up the notes, rhythm, and dynamics right away. I listened to the Alto CD regularly, but I had been a soprano earlier and found it hard to follow the alto parts. Finally, I decided that I was not a very good singer and should not remain in the chorale. When I announced this to my carpool, each person told me that she felt the same way when she first joined the chorale but had ended up returning season after season. They urged me to hang in there until the December concert and then see if I wanted to stay or not. Sure enough, we spent the last few weeks before the concert polishing our pieces. By the time we performed, I knew most of the works by heart and the pleasure of performing them with 150 fellow singers convinced me that the chorus and my carpool were crucial to living a fulfilling life!
– Paula Richman