Putting in the Effort
It's football season, in case you haven't noticed. Tom, Bill, Gronk. Sometimes the games happen on a Thursday night, but they start so late (thank you west coast!) that their OCC fan base can usually make it home to catch the first quarter.
I'm thinking we have a something in common with the Patriots. Thankfully, it's not that Allison resembles Bill Belichick or that Tom Brady can sing an aria. It's practice! They practice, we practice. Over and over. We practice together once a week, but we also practice at home. We bring home our CDs, download practice files, and vow each week to carve a little bit of time out of our busy week to tackle the bits we just don't get or can't seem to keep up with when we're rehearsing on Thursday nights. And the practice is evident as we put together longer and longer lines and make beautiful sound.
When I was a kid my older sisters both played violin. They took lessons, they played in the high school orchestra and the Youth Symphony, and they practiced in the bathroom off of my bedroom, which was far from the babble of the TV or the quiet my parents tried to envelope themselves in at the end of the day. Lucky me! Over and over they'd run their arpeggios. And over, and over. These days I think of those arpeggios when Allison talks about "muscle memory." It's why we practice, to learn notes, and then to place them for recall as we rehearse and then perform. Much like an athlete!
I thought it would be fun to do an informal and entirely random survey of our members and find out their practice habits. Where and when do you practice? How do you practice? (Does anyone practice in the bathroom?) Well, it turns out we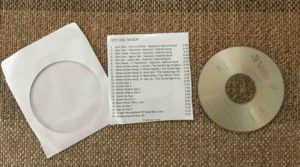 have a diligent and resourceful group. Most people make an effort to isolate themselves from annoying spouses—especially opinionated ones. Sitting at a computer and listening to files seems the common denominator, but others sat in their living room or at their kitchen table with their music. One bass even has a music room (he has other talents which involve brass instruments). A pair of enterprising altos practice together at a set time each week. A tenor who lives upstairs from a business and doesn't care to serenade them says she sometime drives to a quiet parking area in the National Seashore and listens in her car while following along with her music. Many listen and sing along to files or CD and then use a piano app to review tricky passages. And those people you see driving down the highway channeling Renee Fleming? They are our OCC friends, learning their music. Do football players do that?
-Martha Magane