Reflections On My Birthday Rehearsal
This past rehearsal was interesting for me. It was my birthday and family suggested they'd love to spend part of it with me and the only way to do that would be to attend our rehearsal. My X, Lanny, still and always a dear friend promised he wouldn't sing along and his wife Carole, also dear, said they'd be very quiet, as inconspicuous as they could be, given that there were 3 of them in this birthday retinue. Oh and "Susie too" – Susie for me because I've known her since she was 14 and although she's now in the same 'women of a certain age' group as I am and is known now as Susan, she'd be there as well, my always and forever friend and sister in law (you divorce a spouse but not your sister in law). So I'd consulted with Shira as we were driving to Truro and she assured me it would be ok, her kids always attend an OCC rehearsal when they visit, she was sure Alison would be 'fine' with it. Having arrived I waited in line at the front where Alison was about to begin her rehearsal, told her it was my birthday and after "Happy Birthday" she assured me it was no problem having my family there. Then I worried about where they would sit and when they'd appear. In our family of Wellfleet lovers you drive 7 hours until nightfall and land at PJ's for lobsters and clams, that's the rule. I texted Lanny and Susie "Yes, Alison says it's ok, so come, be quiet, welcome" in the hope that they'd notice them, in between the lobsters and the clams.
But they didn't. So those guys never showed up but the fact that it was my birthday and that they could arrive at any minute added to my list of concerns, one of which was to find and hit the accidentals as they pop up in the Rutter "When Icicles Hang." You know, "To-wit To Who! A mer–ry note…" For example. But, if you don't have a piano and your car CD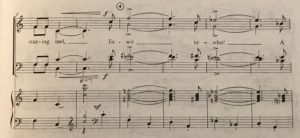 player hasn't worked since Jon Arterton moved away, the options that could have facilitated making the best mental notes of the seeming mine field of 'accidentals' and of the dynamics of very slowly evolving crescendos and diminuendos of Faure's requiem or the fast ones of Anon's "Hay,Ay" well, they aren't at your disposal. Of course, I do the best I can. I listen to the CD Alison made for us altos as often as I can, sometimes sitting down and practicing the music, sometimes listening as I wash the dishes.
Alison teaches us that the voice is the body is the muscle memory is the voice. So 'pay attention' to how you breathe, fill your belly with your breath and it will sustain you through those high notes or long notes and phrases of no breaths and if you run out of breath, well don't kill yourself trying to hold on, give it up to someone who can – and hold on. One of Alison's mantras is "Breathe." The corollary is "Breathe more."
As part of our warm-up we did the usual solfege. (The rationale had escaped me for 3 semesters until this one, when for some reason those hand gestures finally seemed to support and take hold of the voice where it needed to go, as in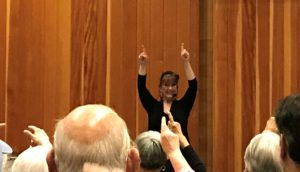 'embody the voice' perhaps). Alison as usual teaches us as we move through our scales, chords, arpeggios. As I recall: If you go lighter on the lower note of an octave rather than landing heavy on it before launching the voice to the higher note of the octave, then you will get where you have to go without bruising the note, your vocal chords or Alison's keening ear. "Not 'ayee' but 'ah' and not 'hai' but 'heh' will keep you in tune and save you from going flat. Sharp? Well that never seems to be a problem with any of us.
Alison had us use our arms and fisted hands to throw a high note way up and out there – and at Arthur's suggestion Alison had us aiming for the basketball hoop at the far right wall. And oh boy did we throw those voices up and into the hoop. I do believe that Alison has converted even the most skeptical of us to the idea that using the body frees and shapes the voice. And I do know that my voice, our voices, have improved markedly with Alison's instruction. And at this practice, as with all the others, I learn something remarkable about singing, the voice, the voiced body from Alison.
I sometimes scribble Alison's colorful analogies and images into the margins of my sheet music. Most of Alison's imagery seems to be inspired by food. A few examples, one from 9/20 and a few from the one I'm memorializing: as we were practicing Faure's 5.Agnus Dei, Alison gestured "It's like pulling taffy." Or this one from 9/27, in Faure's 6.Libera Me, where we crescendo from "pp" Tremens to 'et ti me o… and "f" "dum discuscio" which Alison likened to "Oh, It's like when you go to a big wedding and there's a big chocolate fountain" and she gestures broadly and we laugh. I've never gone to one of those weddings with a chocolate fountain. But I do like chocolate. When I read the words to this particularly dynamic section, section B ("trembling trembling I stand before thee in fear and dread thy wrath shall descend on the earth") I was persuaded that Alison's analogy was uniquely Alison, another expression of a playful spirit who clearly gets more than a mouthful of inspiration from food, more specifically from sweets – candy and cake.
So my relations never showed up. They texted me, I met them after rehearsal and we had birthday ice cream cones at Savory. I emailed Jeff that it would be impossible to go home and write a few paragraphs for my blog entry given that my guests, including 2 medium sized well-behaved mutts, had to be bedded down. And then I was too tired to do anything more. So here it is, my blog entry for 9/27.
– Elaine Baskin